! -- End Google Fonts -->
Search for…
Narrow Search
Neighborhood

Category

Features

Show only

Price

User Ratings
3 results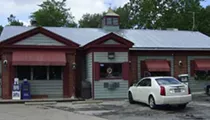 The plastic and neon of the Montrose shopping district are two miles — and several decades — removed from this little roadhouse. But while the Alley's big menu of sandwiches, pizza and salads seems soothingly unfashionable, execution is above average, the car-themed decor is charming, and the attitude is hip.
Famous for its Thursday night jam sessions with the Tower City Blues band, Grillers Pub offers an assortment of microbrews on tap and a kitchen that delivers up an assortment of burgers, wings and sandwiches.
A devastating fire put Grumpy's out of commission for two years, but owner Kathy Owad has resurrected the beloved Tremont café in a cozy new space. Serving breakfast, lunch, dinner, weekend brunch and late-night weekend dining, Grumpy's pretty much has you covered morning, noon and night. Expect hearty plates of reasonably priced, stick-to-your-ribs comfort food served with cheerfulness.

3 total results
Newsletters
Never miss a beat
Sign Up Now
Subscribe now to get the latest news delivered right to your inbox.
Facebook Activity