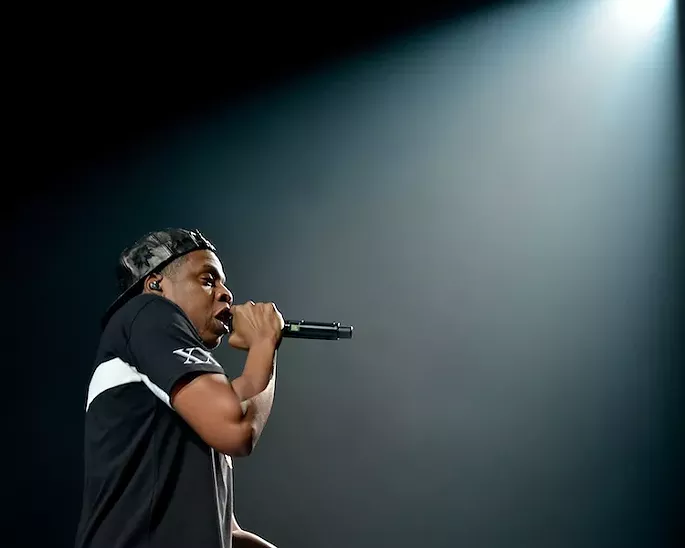 Jay Z Performing at Quicken Loans Arena
Despite the mixed reviews of his latest album Magna Carta Holy Grail, nothing can hold back rapper Jay Z. As either businessman or performer, he's proven himself time and time again to be the hardest working man in show business. With a nearly 20-year-long career behind him (and undoubtedly many years ahead of him), the rap pioneer is nothing short of legendary at this point. In the essence of both the Magna Carta and Holy Grail, he confronts his rap supremacy and chasing of greatness through powerful music that both captivates and invigorates. By no means did he invent rap, but his list of hits and obvious cultural impact emphasize his shaping of the genre.
This year's Magna Carter World Tour only punctuated his nearly mythological persona. As the lights went out last night at the Q in preparation for Jay-Z to take the stage, the crowd exploded with heavy anticipation. He opened with with "U Don't Know" off 2001's The Blueprint; strobe lights and glitchy videos accompanied the heavily rhythmic and intense track. The industrial and geometric stage shone with bright lights, creating a captivating backdrop for the rap star. To the sides of the stage, screens projected Jay-Z's appearance as a larger-than-life iconoclast. "We're going to take tonight to a legendary level," Jay-Z proclaimed. Without fail, he delivered.
The first half of his two-hour set featured Magna Carta Holy Grail tracks like the potent "FuckWithMeYouKnowIGotIt," "Picasso Baby" and the Justin Timberlake collaboration "Holy Grail." Many of the first half's tracks suggested the darker side of Jay Z's catalog. Holding a statuesque mystique around himself, he created a distant yet personal vibe to the show. The unstable video imagery of radar dishes and security cameras coupled with songs of protest like "99 Problems" reaffirmed Jay Z's presence as a cultural leader and strong individual.
Musically, the tracks shook the arena. On albums, Jay Z tracks inherently bump and move. Live, the experience is heightened ten-fold. Stylish beats and bass lines drive the tracks as Jay-Z intricately raps around the rhythm. With a certain delicate forcefulness, even his oldest raps still sounded as fresh and invigorated as they did when they first hit. His four-piece band, which included producer Timbaland, provided flawless musical accompaniment that rocked the arena with the power of Led Zeppelin and precision of The JB's.
After a brief interlude provided by Timbaland, Jay-Z came back and the show took a noticeable shift. Playing almost exclusively from older albums, many of the tracks carried a lighter tone like the pop hits "Hard Knock Life (Ghetto Anthem)," "Big Pimpin'" and "Dirt Off Your Shoulders." In a Kanye-less rendition of "N***** in Paris," Jay Z stopped the track to recount an amusing story that occurred early on the Magna Carter tour. Stating a fire marshall informed him that if the fans continued to block the aisles, he would fine the rapper, Jay Z rebutted by informing the fire marshall that in a particular song ("N***** in Paris") he says the line, "what's 50 grand to a mothafucka like me, can you please remind me?" Exciting the crowd to no end he exclaimed, "You pay for that motherfucking ticket, you do what you want. Do what the fuck you want, I'll take care of that fine." And as the track started back up, the crowd embraced the chaos.
Even though the show took place at a giant sports arena, Jay Z's stage presence and conversations with the crowd proved engaging and, at times moving. Pausing to do crowd work, he talked to an adorable 10-year-old attendee and took a photograph with a fan that will undoubtedly use that picture as her Facebook profile pic for the rest of her life. Closing the show with "Forever Young" as a tribute to the late Nelson Mandela, Jay Z shared a couple more words with the audience. Telling audience members to never let anyone tell them they can't do something. Motivating the crowd to achieve their own goals, Jay Z told a story from his own youth about those who told him not to be a rapper. He was told he'd "never be the next LL Cool J." "Lucky for me, I didn't believe that for one second," he said before leaving the stage.