"You have to take me as I am," Loretta Lynn announced from her center stage chair last night before a sold out crowd at Hard Rock Live. With 50-plus years of unapologetic hits like "You Ain't Woman Enough (To Take My Man)" and "The Pill," both of which she performed, that declaration could have summed up Lynn's entire career. In fact, she was simply explaining that a recent eye operation made it difficult for her to navigate the stage unaccompanied. But even seated the singer delivered a powerful performance that her generations of fans clearly loved.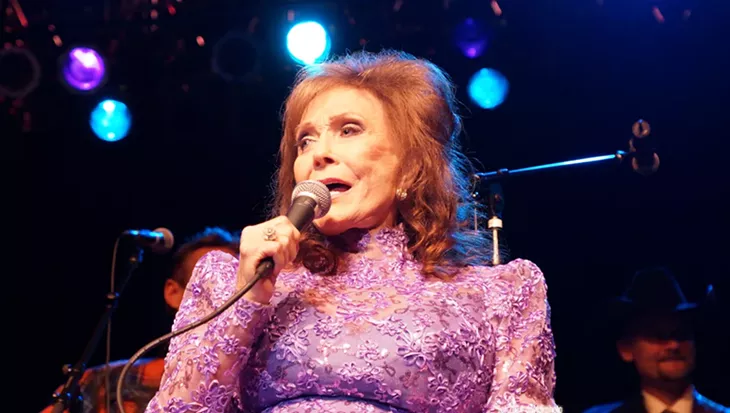 Loretta Lynn and the Coal Miners Performing at Hard Rock Live
After her family twin daughters Peggy and Patsy ("The Lynns") and son Ernest Ray opened up the show, Lynn, cloaked in sparkling lilac, took the stage. The coal miner's daughter kicked things off with "They Don't Make 'Em Like My Daddy," quickly moving on to "You're Looking at Country" and "I Wanna Be Free" before engaging in a little conversation with the crowd. Once the banter began, son Ernest Ray was off to the races, offering up funny stories intermingled with TMI tales. Perhaps the best one was about the rival for Lynn's deceased husband's affections about whom "Fist City" was written. "I wish your dad was alive to see her now," said Lynn. "She only had one tooth and it went out that way," joked Ernest.
All told, Lynn and her nine-piece backing band (which included Twinsburg, Ohio's own Michael Lusk) played 19 tunes, including her self-proclaimed favorite, "Blue Kentucky Girl" and "She's Got You," a tune that left the crowd cheering loudly, The country legend stood to end the terrific show, belting out "Everybody Wants to Go to Heaven" and the autobiographical "Coal Miner's Daughter."