When bands set their touring schedules, they rarely come to the same city more than once within a six-month period. The thinking is that they don't want to saturate the market. Not Panic! At the Disco. These guys have been in Northeast Ohio a number of times this year (most recently, singer Brendon Urie performed earlier this month at the Alternative Press Music Awards). And yet fans can't seem to get enough of Urie and co. About 3500 (mostly female) fans showed up last night to see the group perform at Jacobs Pavilion at Nautica, filling about three quarters of the venue. In fact, the audience was so skewed that promoters changed one of the men's restroom to a women's restroom to accommodate the number of women at the concert. And piercing screams could be heard between songs — those screams were deafening when the sculpted singer removed his shirt at the concert's start.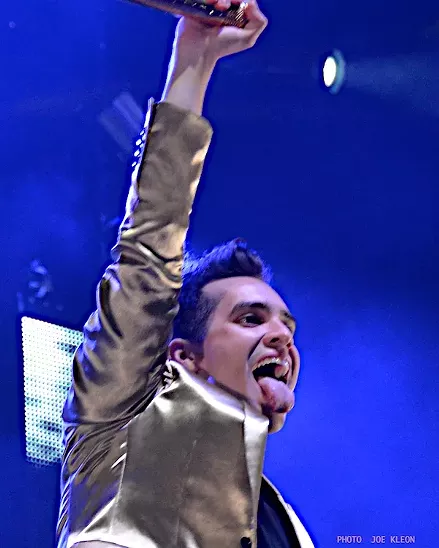 Panic! at the Disco Performing at Jacobs Pavilion at Nautica
The 90-minute show actually got off to a shaky start as the band blew through tracks such as "Vegas Lights" and "The Ballad of Mona Lisa" without much finesse, drowning the vocals out with heavy guitars and pounding drums. It settled into a good groove, however, for "Let's Kill Tonight," a New Wave-inspired song that ended with a vigorous jam. From that point forward, the group stayed on track, inspiring a sing-a-long with "Trade Mistakes" and slowing things down for the brooding "Casual Affair." Urie introduced "Miss Jackson" as a song about a "girl I used to fuck" and the tune built slowly and then really simmered once it got going. He played keyboards for the Beatles-like "Nine in the afternoon" and then knocked out a cover of Queen's "Bohemian Rhapsody," showing off his vocal prowess in the process. His ability to imitate Queen singer Freddie Mercury on the tune was really remarkable even though one cynical fan suggested to us that the "kids" at the concert would think it was a unheard Panic! At the Disco track. Urie yelled a bit too much in "Lying is the Most Fun a Girl Can Have Without Taking Her Clothes Off" and his vocals sounded distorted on "Nearly Witches (Ever Since We Met….)," but he sounded sharp on "This is Gospel," for which the stage turned into a church-like setting with faux stained glass windows, and the set-closing "I Write Sins Not Tragedies," which brought the 21-song set to a furious finish.