OneRepublic is the opposite of a one-hit wonder. The pop band has been churning out commercial radio fodder ever since issuing its 2007 debut
Dreaming Out Loud
. Frontman Ryan Tedder has lent his talents to other artists too as he's worked with high-profile acts such as Jennifer Lopez, Kelly Clarkson and Beyonce. Last night before a crowd of about 12,000 at Blossom, he and his OneRepublic band mates emphasized the hits in the their catalog in a well-executed but ultimately underwhelming performance that suggested Tedder is better as a studio musician than a live performer. (That criticism isn't as harsh as it seems).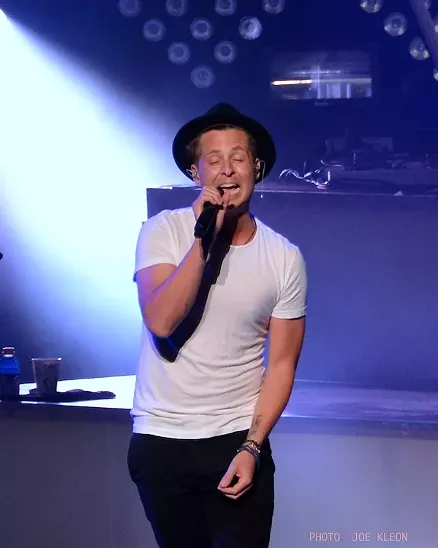 OneRepublic and the Script at Blossom
Tedder and co. made a dramatic entrance as they started the performance by playing "Light It Up" behind a large white screen as a flurry of strobes flickered with anticipation. You could only see their silhouettes until the curtain dropped in the middle of the song. Decked out in a black top hat, a white T-shirt and jeans, Tedder looked a bit like Justin Timberlake. But he lacked Timberlake's swagger (and dexterous dance moves). And while Tedder can definitely sing well (at least within a certain range), he seemed more comfortable speaking his way through songs (though he did handle the Louis Armstrong number "What a Wonderful World" with no trouble). His vocals didn't soar like they needed to for "What You Wanted," and the Coldplay-like "Stop and Stare" commenced with an awkward acoustic guitar intro and never quite reached a climax. He also shrieked too much on "Can't Stop" and he screwed up the intro to "Good Life" (but eventually recovered as he turned the song, which he said became "more important to people than we though it would," into a fervent sing-a-long.
Despite its flaws, the concert had plenty of highlights. Tedder sang "Secrets" while accompanied by a two-man string section and then led a sing-a-long at the song's conclusion as he stood on one of the speaker monitors and acted as if he were conducting an orchestra. "All the Right Moves" featured a video intro featuring a chorus of children singing the first few lines from Abbey Road Studios. And Tedder capably played a stripped down rendition of "Apologize" while showing off his skills on the piano. "Love Runs Out," the first song of the encore, benefited from some added percussion and showed just how well the band can rock out when it wants to. Even if Tedder doesn't have the charisma or stage presence to be considered a great performer, the 90-minute show was good fun (Tedder regularly interacted with the crowd and at one point even hopped off stage to run through the pavilion).
The Script opened with a high-energy hour-long set that concluded with its most popular tune, the pop/hip-hop anthem "Hall of Fame," which had audience members on their feet.