10 Things Going on in Cleveland this Weekend (May 2 – 4)
Photo via Facebook
Back in October, Playhouse Square unveiled plans to string a spectacular 20-foot, 8,500-pound crystal chandelier across Star Plaza in downtown Cleveland. The idea is that this piece will be a neighborhood spectacle, admired not only by Clevelanders, but by people from around the world. The chandelier is just one component of the $16 million Theater District transformation, which also includes new gateways, light-up video signage, upgraded lighting and sound systems. Tonight at 5, you can attend a gala ceremony that includes a performance by the pop group Hot Chelle Rae. Admission is free and the lighting takes place at 9:30 p.m. (Alaina McConnell)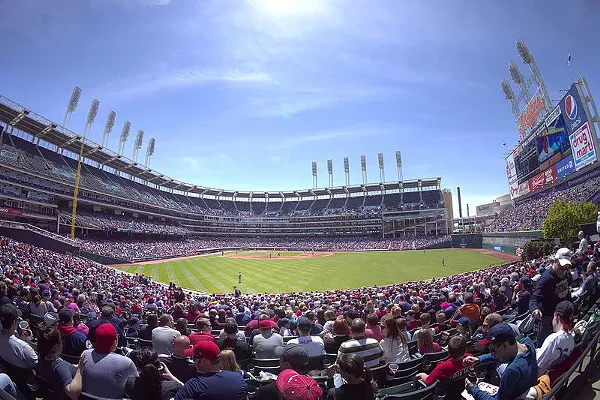 Photo via Wikimedia Commons
The American League Central is currently the tightest division in baseball, one month into the regular season. No one's particularly good — not even the formidable Tigers — and no one's particularly bad — not even the basement-dwelling Royals. Tonight, enjoy the first game in the Tribe's weekend series with division rival Chicago White Sox. Last year, the Indians beat them just about every time they played, but this year an emboldened offense has given the White Sox new life. The Indians have been relying on Michael Brantley, David Murphy and that's about it. Fingers crossed that Michael Bourn and Nick Swisher — the team's two highest-paid offensive players — will find their respective grooves. First pitch is at 7:05 this evening. Tomorrow's game begins at 6:05 p.m. and Sunday's at 1:05 p.m. Tickets start at $12. (Allard)
Photo via Facebook
This month's MIX kicks off the weekend with some jazz as Tri-C Jazzfest has teamed up with Cleveland Museum of Art to make tonight's party extra fun. Featured musician will be Etienne Charles, and his special brand of Creole-infused jazz takes elements of Afro-Caribbean and mixes them with R&B and soul. This party is expected to be super popular, so reservations are recommended. It runs from 5 to 9 p.m. and tickets are $8 in advance and $10 at the door. (Trenholme)
Photo via Facebook
The NFL season doesn't kick off until fall but fans can get a jump on the season at the inaugural Pro Football Hall of Fame Fan Fest that takes place today and tomorrow at the I-X Center. One hundred Hall of Famers are slated to attend and activities range from football clinics on the full-size 100-yard field to film screenings narrated by the players. Former Steeler Terry Bradshaw will perform his one-man show at 2 and 7 p.m. tomorrow. Tickets are $39.99 but Bradshaw's show requires separate admission. Two sessions take place each day from 10 a.m. to 3 p.m. and from 4 p.m .to 9 p.m. (Niesel)
Photo via Facebook
Billed as the "world's largest paint party," Life in Color is a concert and festival production that stages more than 200 events annually in the United States and internationally. Its goal: "to transport fans into the ultimate mind blowing, head bumping and heart pumping electronic dance music experience featuring the world's biggest DJs, soaring aerial acts, stilt walkers, contortionists and fire shows...leading up to the ever so famous paint blast." This year, it features Carnage and Seven Lions, along with local artists. Tickets are $55.15. (Niesel)
Photo via Facebook
Cleveland's comedy scene is growing. Apart from creating comedic greats like Drew Carey and Dave Hill, the underground scene is quickly producing solid comedians with unique life perspectives. The Chucklefck comedy shows are at the forefront of this intentionally hilarious movement. For $6 tonight at Reddstone, you can check out some of Cleveland's funnier assets in this five-comedian-deep line-up. While most of these comedians are still early in their careers, they're more than capable of creating a night full of laughs. The bar upstairs opens at 9 and the show starts at 10 with $5 burgers, pizzas and wings and drink specials. (Patrick Stoops)
Photo via Scene Archives
Get your costumes ready, because Ingenuity is hosting their third annual Bal Ingénieux. This event is inspired by the Kokoon Arts Club parties of the early 20th century, which celebrated creativity— and that's pretty apparent from the kinds of outfits people wore (check out
some pictures from last year
). The re-enactment raises funds for IngenuityFest, and tickets are available at three levels. Acts include Last Call Cleveland, Pinch & Squeal! and more.
Photo via IMDB
Given that the film's soundtrack consists of bluegrass music, you'd think The Broken Circle Breakdown would take place somewhere in rural American. And yet, that's not the case. Set in Belgium, it chronicles the love affair that takes place between a tattoo artist and a banjo player. While the movie's anti-American sentiments haven't gone over well with many critics who find the political statements interfere with the love story at the film's core, the movie has received generally positive reviews and won several Magritte Awards (the Belgian equivalent of the Oscars). It shows today at 4 p.m. at the Cleveland Institute of Art Cinematheque. Tickets are $9. (Niesel)
Photo via Facebook
This afternoon, head on over to Guide to Kulchur in Detroit-Shoreway for the launch party of a really cool new presence in Cleveland. It's Hollaback, a movement to end street harassment powered by a network of local activists around the world. The folks at Hollaback work together to better understand street harassment, ignite public conversations, and develop innovative strategies to ensure equal access to public spaces. They'll be partying at Guide to Kulchur from 2 to 5 p.m. Guests are encouraged to enjoy the music, open mic performances, zine-making and "chalk walking." Help paint the town pink! (Allard)
Photo via Youtube
The folks at Mechanic Street, the Ohio City home that hosts house concerts, bring their first ever jazz group into town tonight. Rosetta Trio — Stephan Crump, Liberty Ellman, and Jamie Fox — mixes modern jazz with Americana. The concert promise to appeal fans of the Punch Brothers, Vijay Iyer or Bill Frisell. The concert starts tonight at 7. Suggested donation is $15; reservations are required. (Niesel) mechanicstreetmusic.com.
Photo via Wikimedia Commons