May 22, 2014 Slideshows » Blogs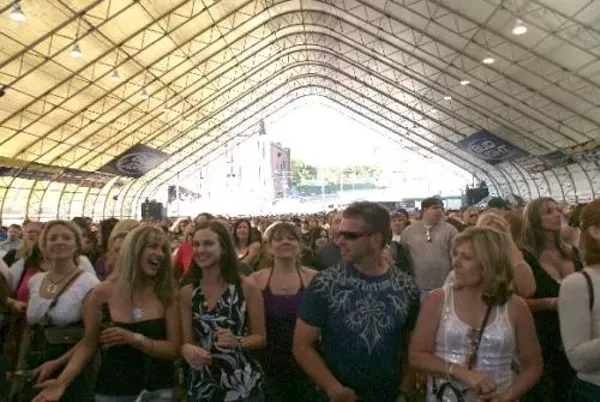 Photo via Cleveland Scene Archives
Memorial Day Weekend wouldn't be Memorial Day Weekend without the Marc's Great American Rib Cook-off and Music Festival. The four-day event kicks off today at noon at Jacobs Pavilion at Nautica. Rib cookers from all around the country will set up booths so you can sample their variations on barbequed ribs. Entertainment acts are scheduled for each night too. Tonight, local cover bands Disco Inferno and the Spazmatics offer a "bone-crushing dance party." Tonight's admission is only $1 but tickets for tomorrow, Sunday and Monday start at $8. Classic rocker Joan Jett headlines tomorrow, emo rockers Taking Back Sunday play on Sunday and country rockers Blackberry Smoke headline on Monday. (Niesel)
Photo via Cleveland Scene Archives
Indulge in some Mediterranean jubilation this Memorial Day with the 44th Tremont Greek Fest. Held at Annunciation Church in Tremont, this four day-long celebration has all the Greek food, drink and dance you can handle. An extensive menu of authentic Greek cuisine is available; the food is made from homemade recipes passed down to parishioners from generations ago. The fest includes outdoor eateries and a wine garden as well as entertainment from Greek dancers, musicians and "The Most Interesting Greek Guy in the World." Festivities run from noon to midnight today, tomorrow and Sunday, and form 12 to 9 on Monday. (Gonzalez)
Photo via Facebook
The Cleveland Gladiators are dominating the Arena Football League, folks. Though the AFL doesn't have the following of the NFL (YET!!!) the Gladiators are 7-0 and, along with the Arizona Rattlers, are the only undefeated team in the country. Gladiator, of course, is now available instantly on Netflix, so it's reasonable to assume the team has been channeling Maximus in a pretty regular way. Tonight, they take on the Philadelphia Soul at the Quicken Loans Arena. With a 50-yard field, look for lots of touchdowns, athletic interceptions and crazy trick plays. Tickets starts at $10 — incredible bang for your buck. (Sam Allard)
Photo via Instagram, @endmike
Jazz and cinema are two art forms that developed in tandem, and the Cleveland Institute of Art Cinematheque celebrates this relationship in what's been dubbed the Double-C JazzFilmFest. This first-ever jazz film series is dedicated to the memory of WCPN's Jazz Tracks host Bobby Jackson. The series runs until June 21 and serves as a fitting prelude to the Tri-C JazzFest. This week's 1954 biopic, The Glenn Miller Story, stars James Stewart as the '40s era jazz trombonist/bandleader. A few famous jazz performers grace the silver screen in the film, including Louis Armstrong and Gene Krupa. The screening features a 35mm archive print, and starts at 5:15 tonight and at 5 tomorrow night. Tickets are $9. (Gonzalez)
Photo via Cleveland Scene Archives
On Memorial Day weekend, join some of the top stars in professional wrestling at Turners Hall in Cleveland, OH for the JT Lightning Invitational Tournament. See former WCW Superstar Buff Bagwell, Michael Elgin, Matt Cross, and many more in the this spectacular two-night tournament. On Saturday night, see former TNA Impact Wrestling Heavyweight Champion Chris Sabin take on Johnny Gargano.
Photo via Cleveland Scene Archives
Spring is finally here and the North Union Farmer's Market is back for its 10th season at Crocker Park. A wide array of vendors will be on hand selling everything from local, organic produce and meats to honey, preserves and baked goods. You can also purchase plants you can take home to start your own organic garden. This year's new location is across from Dick's Sporting Goods. Hours are 9 a.m. to 1 p.m. and the market takes place every Saturday through December. (Trenholme)
Photo via Facebook
For the first time ever, you can come to Wade Oval and get into the Cleveland Botanical Garden, Museum of Natural History and Western Reserve Historical Society for free. Since the Art Museum normally has free general admission, they are offering free tickets to the hugely popular Van Gogh exhibit for the first 500 visitors. This Cleveland Foundation Day is designed to celebrate the collective support these gems of Cleveland have received over the last 100 years. Hours are 10 a.m. to 5 p.m. (Trenholme)
Photo via IMDB
Two of the most iconic James Bond characters of all time — the aptly named Pussy Galore and hat-hurling bad guy sidekick Oddjob — appear in Goldfinger, screening tonight and tomorrow at the Cleveland Institute of Art Cinematheque. It's the film's 50th anniversary, which means that Sean Connery (who plays agent 007) is really, really old. Goldfinger is the third in the Bond saga, following Dr. No (1962) and From Russia with Love (1963). Precious metals magnate Auric Goldfinger seeks global domination via the disruption of the American gold supply at Fort Knox in this oh-so-'60s tale of international espionage. Tickets are $9 for tonight's 9:15 screening. Same for tomorrow at 7:15. (Allard)
Photo via Facebook
Cleveland's comedy scene is growing. Apart from creating comedic greats like Drew Carey and Dave Hill, the underground scene is quickly producing solid comedians with unique life perspectives. The Chucklefck comedy shows are at the forefront of this intentionally hilarious movement. For $6 tonight at Reddstone, you can check out some of Cleveland's funnier assets in this five-comedian-deep line-up. While most of these comedians are still early in their careers, they're more than capable of creating a night full of laughs. The bar upstairs opens at 9 and the show starts at 10 with $5 burgers, pizzas and wings and drink specials. (Patrick Stoops)
Photo via Wikimedia Commons
Guide to Kulchur, fast becoming a hub for hypnotically unusual events on Cleveland's west side, hosts WOMYN at 6:30 this evening. WOMYN is a monthly collaboration with She Speaks Collective to offer a "women-centric reading experience." The goal, according to their literature, is to create a movement of those willing to confront both themselves and the issues women face today. As with most of the G2K events, it's free, open to the public and BYOB. It'll start with an open mic followed by three featured readers — women with impressive national writing credentials. Though men are free to attend in support, there will be a women-only forum after the readings on the subject of accountability. (Allard)
Photo via Wikimedia Commons
Many years ago, when I was very young, I met Travis Haddix at some iteration of the Cleveland Blues Festival. I had no idea who he was, but his name stuck with me. He even signed my program. Anyway, years later, as I got more and more into blues, Haddix's name would crop up in my listening at irregular intervals. Now and then I would delve into Cleveland's fairly under-the-radar blues history, and — boom — Haddix. What he has always done so well has been his steady merger of classic blues structures with smooth R&B-style singing. He makes the blues accessible to anyone willing to listen and, inevitably, dance. And having been playing guitar since he was 7, the dude can tear it up quite nicely. He once told a music writer, "I am the best that I can be, and since no one else can be me, there's none better." Right on. (Sandy)
Photo via Instagram, AsIBreatheIHope
One of Shakespeare's most heart-wrenching tragedies, King Lear finds a king who wants to distribute his land among his three daughters, with portions depending upon which of them praises him most eloquently. Lear is one of those roles that old British actors get huge boners for the chance to play, and this time it's Simon Russell Beale, a guy whose name you don't know, but whose face you'd probably recognize. Sam Mendes (Skyfall) directs this classic, which is brought to you live this evening at the Cedar Lee at 7 p.m. Be forewarned: It's three-and-a-half-hours long, but it's live theater (sort of), so enjoy. Tix are $20 (which is only like $3 more than an IMAX 3-D movie at Crocker, so don't get all indignant). (Allard)
Photo via Cleveland Scene Archives
Every second, third, and fourth Monday of the month, Great Lakes Brewing Company in Ohio City kicks off its week with a little live music, craft brews and delicious pub eats (we recommend the housemade pizzas, which are half off during their 4 to 7 p.m. happy hour). Guests can grab a beer and meander down to the Beer Cellar on the basement floor to enjoy the laid back tunes of local musicians. Tonight, it's local singer Kristine Jackson, who adeptly alternates between blues and pop. She plays from 6 to 8 p.m., and there's no cover charge. (McConnell)
Photo via Cleveland Scene Archives
Do you have tons of obscure music knowledge? Are you a student of fast food menus and their nuanced histories? What say you about the geographic evolution of Scotch whisky? Tonight's your chance to wow your friends, make yourself instantly more desirable to someone you're newly dating, and hang with Cleveland's headiest hipsters and hot dog lovers. It's the Happy Dog Monday night trivia. Starting at 8 p.m., expect themed rounds — it's a crap shot — and general knowledge questions that seem considerably trickier than some of the other live trivia locales in town. Obviously, have a hot dog and a craft brew while you're at it. And arrive early. The tables fill up quickly. (Allard)
Photo via Instagram, mr_magic101
There is no better way to celebrate Memorial Day weekend than with a good old fashioned BBQ. Break out the grill and invite the neighbors, and enjoy your three day weekend with some beers and brats.
Photo via Cleveland Scene Archives