January 14, 2015 Slideshows
24 Original Scene Covers from the 1970s
A pile of vintage Scenes (or The Scene Free Weekly, as it was known back then) landed on our desk today, and we've enjoyed thumbing through the yellowing pages this afternoon. Here's a handful of our favorite covers from the 1970s. How many of these do you remember reading?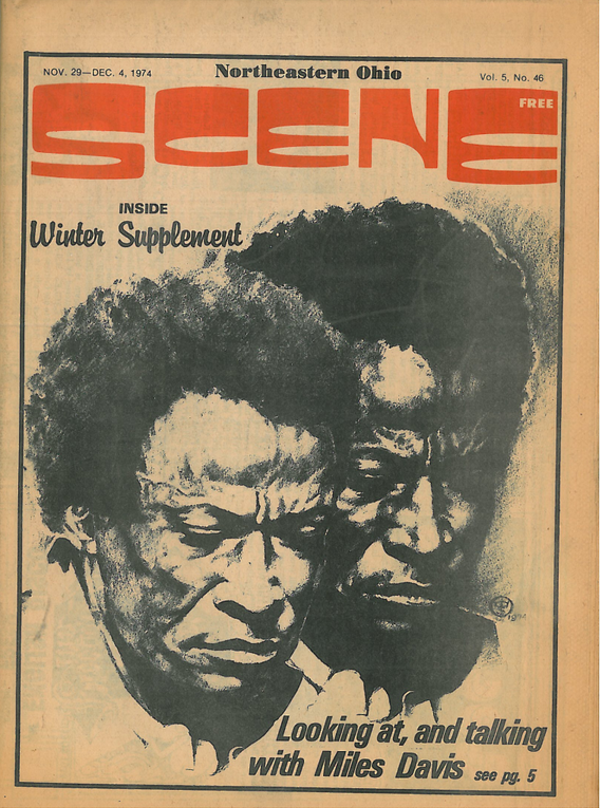 "Looking at, and talking with Miles Davis," 1974.
"Special two-page Bruce Springsteen center-spread including pin-up live photo page of Agora show," 1978.
"David Cassidy; five years on," 1975.
"Alice in X-Land: the innocent porn of Kristine DeBell," 1976.
"The WHO; in retrospect," 1975.
"Pulling teeth with Lou Reed," 1976.
"Growing-up with The Michael Stanley Band," 1976.
"Queen reigns over Cleveland," 1975.
"David Bowe: the man with no identity," 1976.
"Bobby Womack calls a spade a spade," 1975.
"Stevie Wonder; re-routing R & B," 1974.
"Rolling over with Electric Light Orchestra," 1974.
"Iggy and The Stooges; one step further than most people can stand," 1974.
"Rush's concept is rock and roll," 1976.
"Roger Daltrey; giving it all away," 1975.
"George Carlin— 'The main thing is gonna be about snot and urinals,'" 1974.
"Bob Seger: beautiful loser on a winning streak," 1977.
"Led Zeppelin come close to perfection," 1975.
"Left End Lp; commercial potential meets heavy metal," 1974.
"Eno; thinking sounds rather than melodies," 1974.
"Lou Reed Transforms Rock," 1972.
"Miles Davis' dreary return," 1974.
"Waylon Jennings; Taking country out of country," 1973.