Comedy This Weekend – Image
9 total results
Thursdays-Saturdays, 7:30-9 p.m. and Sundays, 3-4:30 p.m. Continues through Nov. 20
216-795-7077
info@karamuhouse.org
Theatrical Events, Comedy
DAY OF ABSENCE written by DOUGLAS TURNER directed by NATHAN A. LILLY ARENA THEATRE A Reimagined Classic. A one-act satire about an imaginary Southern town where all the black people have suddenly disappeared. As they mysteriously reappear, the white community, sobered by the experience, breathes a sigh of relief. Performed as a "reverse minstrel show", actors are wearing whiteface to add additional texture to the plot. Social Justice Series. Post show talkbacks will be scheduled. $20 - $40
https://www.karamuhouse.org/ticket-info/49
Karamu Performing Arts Theatre
(map)
2355 E. 89th St.
Eastern Suburbs
216-795-7070
Fri., Nov. 16, 7:30-9:30 p.m.
330-975-0072
Cdketler1@gmail.com
Comedy
Funny Noizes Productions in conjunction with Rubber City Sound Company are proud to Present "Pass The Gravy Comedy Show" on November 16, 2018 at the beautifully remodeled Rialto Theater in Kenmore/Akron Ohio. Tonight's sponsor is Rent-A-Center, located at 938 Kenmore Blvd Akron, OH 44314 330-745-7344. Whatever you need, they have it for you. Just call them! Start off the Holidays with laughter ... and you'll find plenty of that with these comics. Headliners Michael Terry and Zach Petrovich travel from NYC to Akron to bring you their own unique comic style. Also tonight we have Feature Chris Ketler, Special Guest $15.00
https://funnynoizesproductions.wordpress.com
The Rialto Theatre
(map)
1000 Kenmore Blvd.
Akron/Summit County
(234) 525-1956

Fri., Nov. 16, 9-10:30 p.m.
Comedy
HOPSCOTCH is a brand new improv troupe featuring Olivia Taliaferro, Carolyn Chan, Rissa Joyce & Sam Dee! This will be their very first performance as a troupe & they want you there to witness this historic event! The Magalen is a BYOB venue so you can bring wine, beer or peach schnapps to enjoy the sweet make-em-ups we've prepared for you! The show will kick off with an Open Jam so sign up when you arrive to do some improv games with us. PLUS all who attend the show will get a free pass to Saturday's Improv Death Match! $5
https://www.facebook.com/events/1076026535904657/
The Magalen
(map)
5203 Fleet Ave
East Side/University Circle/Little Italy
4404173939
joel@slavicvillage.org

Sat., Nov. 17, 5-6 p.m.
Comedy
Live podcast recording! How It's Paid is a comedy podcast following the outrageous spending habits of celebrities. Jonathan and Stacy are not accountants, but they do care about where the money goes. Come watch their hilarious podcast in the duo's first live recording! FREE
https://www.clevelandcomedyfestival.com/nypb/
Sat., Nov. 17, 7:30-9:30 p.m.
216-521-3280
Comedy
Mahall's has enlisted the help of dark wizard Sam Dee (Share-apy, Mass Hysteria - Comedy Fest) to gather the victors of previous Improv Death Matches for a BATTLE ROYALE! They fight for honor, laughs & the IDM TITLE! Never before has such a vicious spectacle taken the stage of ANY building, ANYWHERE! COME & WITNESS THE CARNAGE! FEATURING: Death defying yoyo stunts by Jumario Simmons PERFORMANCES BY: Rare Form Casually Late Stampede IMPROVment & Hosted by Sam Dee Doors at 7:30 | Showat 8pm | $5 cash or card | All Ages but with Adult Content | Free Parking $5
https://www.facebook.com/events/318057622318919/
Mahall's 20 Lanes
(map)
13200 Madison Ave.
Western Suburbs
216-521-3280
Sat., Nov. 17, 8-10:30 p.m.
216.795.7077
info@karamuhouse.org
Comedy
Launched in 2016, the Karamu Comedy Series is back and funnier than ever. On Saturday, November 17, 2018 at 8:00 pm, Cleveland's top talent will remind us that joy and laughter is all around if we just take the time to see it. Joey Zsa Zsa, Spike Lou, Burner, Eulise Dickerson, Jen Jen, and Mike Ivy bring their talent to the stage of the Orchestra Hall at Karamu House 2355 E 89th Street Cleveland, OH 44128. Tickets are $20.00 in advance and $25.00 at the door. Purchase tickets at karamouhouse.org or call 216.795.7077. Concessions with bar will be available. 20.00
https://karamuhouse.org/ticket-info/35
Karamu House, Inc.
(map)
2355 East 89th St.
East Side/University Circle/Little Italy
(216) 795-7070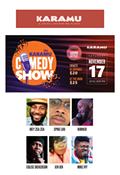 Saturdays
866-496-0535
clv.info@thedinnerdetective.com
Theatrical Events, Comedy, Singles
America's largest interactive comedy murder mystery dinner show! Solve a hilarious crime while you feast on a fantastic dinner. Just beware! The killer is hiding somewhere in the room, and you may find yourself as a Prime Suspect! The Dinner Detective Murder Mystery Dinner Show performs weekly. We also offer Corporate Entertainment, Team Building Events and Private Shows that are customized to your group with roles for your group members to play. Join us for a one-of-a-kind public or private event that your guests will talk about for months! $59.95
https://www.thedinnerdetective.com/cleveland/
The Dinner Detective
(map)
1100 Carnegie Ave
Downtown/Flats/Warehouse District
(866) 496-0535
clv.info@thedinnerdetective.com
Sun., Nov. 18, 3-5:30 p.m.
800-801-7407
Comedy, Theatrical Events
What makes us laugh at a song in a musical? Sometimes it's the brilliant wordplay in a lyric (Yip Harburg's "Lydia, the Tattooed Lady"). Sometimes it's the shenanigans of an outrageous performer (Nathan Lane), or the character being played by that performer (Max Bialystock). Or sometimes it's all three, like Bert Lahr bellowing his way through the Cowardly Lion's "If I Were King of the Forest" in The Wizard of Oz. When that happens, we connect more deeply with our dreams, joys and frustrations. In short, our laughter brings us closer to ourselves. $30 - $55
http://www.playhousesquare.org/events/detail/the-musical-theater-project-presents-just-for-laughs
Hanna Theatre
(map)
2067 East 14th St.
Downtown/Flats/Warehouse District
216-241-6000
Every other Sunday, 7-10 p.m.
Comedy
Presented by SX1 Entertainment, Jess Faulstich hosts a bi-weekly comedy showcase of the very best in Cleveland's stand up comedy. The venue is BYOB and dog-friendly! Donations are encouraged, even if it's couch change.
The Skidmark Garage
(map)
5401 Hamilton Avenue
Downtown/Flats/Warehouse District
(440) 591-4822
Showing 1-9 of 9 total results in this search.