! -- End Google Fonts -->
Narrow Search
Narrow by date

Category

Neighborhood

Show only

Occurrence
Other Searches
Comedy This Weekend
3 total results
Fri., Nov. 16, 9-10:30 p.m.
Comedy
HOPSCOTCH is a brand new improv troupe featuring Olivia Taliaferro, Carolyn Chan, Rissa Joyce & Sam Dee! This will be their very first performance as a troupe & they want you there to witness this historic event! The Magalen is a BYOB venue so you can bring wine, beer or peach schnapps to enjoy the sweet make-em-ups we've prepared for you! The show will kick off with an Open Jam so sign up when you arrive to do some improv games with us. PLUS all who attend the show will get a free pass to Saturday's Improv Death Match! $5
https://www.facebook.com/events/1076026535904657/
The Magalen
(map)
5203 Fleet Ave
East Side/University Circle/Little Italy
4404173939
joel@slavicvillage.org

Sat., Nov. 17, 8-10:30 p.m.
216.795.7077
info@karamuhouse.org
Comedy
Launched in 2016, the Karamu Comedy Series is back and funnier than ever. On Saturday, November 17, 2018 at 8:00 pm, Cleveland's top talent will remind us that joy and laughter is all around if we just take the time to see it. Joey Zsa Zsa, Spike Lou, Burner, Eulise Dickerson, Jen Jen, and Mike Ivy bring their talent to the stage of the Orchestra Hall at Karamu House 2355 E 89th Street Cleveland, OH 44128. Tickets are $20.00 in advance and $25.00 at the door. Purchase tickets at karamouhouse.org or call 216.795.7077. Concessions with bar will be available. 20.00
https://karamuhouse.org/ticket-info/35
Karamu House, Inc.
(map)
2355 East 89th St.
East Side/University Circle/Little Italy
(216) 795-7070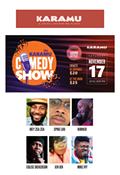 Thursdays-Saturdays, 7:30-9 p.m. and Sundays, 3-4:30 p.m. Continues through Nov. 20
216-795-7077
info@karamuhouse.org
Theatrical Events, Comedy
DAY OF ABSENCE written by DOUGLAS TURNER directed by NATHAN A. LILLY ARENA THEATRE A Reimagined Classic. A one-act satire about an imaginary Southern town where all the black people have suddenly disappeared. As they mysteriously reappear, the white community, sobered by the experience, breathes a sigh of relief. Performed as a "reverse minstrel show", actors are wearing whiteface to add additional texture to the plot. Social Justice Series. Post show talkbacks will be scheduled. $20 - $40
https://www.karamuhouse.org/ticket-info/49
Karamu Performing Arts Theatre
(map)
2355 E. 89th St.
Eastern Suburbs
216-795-7070
Showing 1-3 of 3 total results in this search.
Newsletters
Never miss a beat
Sign Up Now
Subscribe now to get the latest news delivered right to your inbox.