! -- End Google Fonts -->
Narrow Search
Narrow by date

Category

Neighborhood

Show only

Occurrence
Other Searches
Comedy Today
6 total results
Thursdays-Saturdays, 7:30-9 p.m. and Sundays, 3-4:30 p.m. Continues through Nov. 20
216-795-7077
info@karamuhouse.org
Theatrical Events, Comedy
DAY OF ABSENCE written by DOUGLAS TURNER directed by NATHAN A. LILLY ARENA THEATRE A Reimagined Classic. A one-act satire about an imaginary Southern town where all the black people have suddenly disappeared. As they mysteriously reappear, the white community, sobered by the experience, breathes a sigh of relief. Performed as a "reverse minstrel show", actors are wearing whiteface to add additional texture to the plot. Social Justice Series. Post show talkbacks will be scheduled. $20 - $40
https://www.karamuhouse.org/ticket-info/49
Karamu Performing Arts Theatre
(map)
2355 E. 89th St.
Eastern Suburbs
216-795-7070
Sat., Nov. 17
Comedy
A comedian who's ventured into acting on occasion, Kate Quigley recently hosted the AVN Awards (airing on Showtime,) and can be seen on MTV2's ADD TV. Widely known as the "up for anything" star of Playboy TV's Undercover, Quigley has also appeared in shows such as The Office, The Josh Wolf Show and The Megan Mullally Show. Cleveland native Rick Glassman opens the show, which is part of the Cleveland Comedy Festival. It takes place at 8 tonight at the Hanna Theatre. Tickets are $25. (Niesel) Cleveland native, Rick Glassman
Hanna Theatre
(map)
2067 East 14th St.
Downtown/Flats/Warehouse District
216-241-6000
Sat., Nov. 17, 5-6 p.m.
Comedy
Live podcast recording! How It's Paid is a comedy podcast following the outrageous spending habits of celebrities. Jonathan and Stacy are not accountants, but they do care about where the money goes. Come watch their hilarious podcast in the duo's first live recording! FREE
https://www.clevelandcomedyfestival.com/nypb/
Sat., Nov. 17, 7:30-9:30 p.m.
216-521-3280
Comedy
Mahall's has enlisted the help of dark wizard Sam Dee (Share-apy, Mass Hysteria - Comedy Fest) to gather the victors of previous Improv Death Matches for a BATTLE ROYALE! They fight for honor, laughs & the IDM TITLE! Never before has such a vicious spectacle taken the stage of ANY building, ANYWHERE! COME & WITNESS THE CARNAGE! FEATURING: Death defying yoyo stunts by Jumario Simmons PERFORMANCES BY: Rare Form Casually Late Stampede IMPROVment & Hosted by Sam Dee Doors at 7:30 | Showat 8pm | $5 cash or card | All Ages but with Adult Content | Free Parking $5
https://www.facebook.com/events/318057622318919/
Mahall's 20 Lanes
(map)
13200 Madison Ave.
Western Suburbs
216-521-3280
Sat., Nov. 17, 8-10:30 p.m.
216.795.7077
info@karamuhouse.org
Comedy
Launched in 2016, the Karamu Comedy Series is back and funnier than ever. On Saturday, November 17, 2018 at 8:00 pm, Cleveland's top talent will remind us that joy and laughter is all around if we just take the time to see it. Joey Zsa Zsa, Spike Lou, Burner, Eulise Dickerson, Jen Jen, and Mike Ivy bring their talent to the stage of the Orchestra Hall at Karamu House 2355 E 89th Street Cleveland, OH 44128. Tickets are $20.00 in advance and $25.00 at the door. Purchase tickets at karamouhouse.org or call 216.795.7077. Concessions with bar will be available. 20.00
https://karamuhouse.org/ticket-info/35
Karamu House, Inc.
(map)
2355 East 89th St.
East Side/University Circle/Little Italy
(216) 795-7070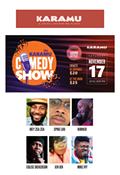 Saturdays
866-496-0535
clv.info@thedinnerdetective.com
Theatrical Events, Comedy, Singles
America's largest interactive comedy murder mystery dinner show! Solve a hilarious crime while you feast on a fantastic dinner. Just beware! The killer is hiding somewhere in the room, and you may find yourself as a Prime Suspect! The Dinner Detective Murder Mystery Dinner Show performs weekly. We also offer Corporate Entertainment, Team Building Events and Private Shows that are customized to your group with roles for your group members to play. Join us for a one-of-a-kind public or private event that your guests will talk about for months! $59.95
https://www.thedinnerdetective.com/cleveland/
The Dinner Detective
(map)
1100 Carnegie Ave
Downtown/Flats/Warehouse District
(866) 496-0535
clv.info@thedinnerdetective.com
Showing 1-6 of 6 total results in this search.
Newsletters
Never miss a beat
Sign Up Now
Subscribe now to get the latest news delivered right to your inbox.