Art Exhibits This Weekend – Image
1 total results
Wednesdays, Fridays, 10 a.m.-9 p.m. and Tuesdays, Thursdays, Saturdays, Sundays, 10 a.m.-5 p.m. Continues through March 3
216-421-7350
Museum Exhibits, Art Exhibits, Fashion
Georgia O'Keeffe: Living Modern offers a unique look into the fascinating connections between the paintings, personal style, and public persona of one of America's most iconic artists. Throughout her 70-year career, O'Keeffe defied convention and forged a fiercely independent identity that was integral to her art. Showcasing several of her paintings alongside her garments—many shown here for the first time—and photographic portraits of her as a subject, the exhibition reveals O'Keeffe's determination to be strikingly modern not only in her art but in her life. Adults $15, seniors and college students $13, adult groups $12, children 6–17 and member guests $7, members and children 5 and under free. *Combination ticket for $25 with Renaissance Splendor: Catherine de' Medici's Valois Tapestries available.
http://bit.ly/2Ou3Nmy
Cleveland Museum of Art
(map)
11150 East Blvd.
East Side/University Circle/Little Italy
216-421-7350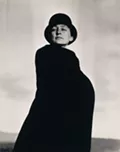 Showing 1-1 of 1 total results in this search.