Art Exhibits Today – Image
2 total results
Wednesdays, Fridays, 10 a.m.-9 p.m. and Tuesdays, Thursdays, Saturdays, Sundays, 10 a.m.-5 p.m. Continues through March 3
216-421-7350
Museum Exhibits, Art Exhibits, Fashion
Georgia O'Keeffe: Living Modern offers a unique look into the fascinating connections between the paintings, personal style, and public persona of one of America's most iconic artists. Throughout her 70-year career, O'Keeffe defied convention and forged a fiercely independent identity that was integral to her art. Showcasing several of her paintings alongside her garments—many shown here for the first time—and photographic portraits of her as a subject, the exhibition reveals O'Keeffe's determination to be strikingly modern not only in her art but in her life. Adults $15, seniors and college students $13, adult groups $12, children 6–17 and member guests $7, members and children 5 and under free. *Combination ticket for $25 with Renaissance Splendor: Catherine de' Medici's Valois Tapestries available.
http://bit.ly/2Ou3Nmy
Cleveland Museum of Art
(map)
11150 East Blvd.
East Side/University Circle/Little Italy
216-421-7350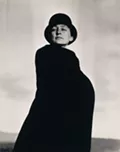 Thu., Feb. 21 and Thu., Feb. 28
Art Exhibits
The CSU Department of Theatre & Dance offers its take on Oscar Wilde's The Importance of Being Earnest, "a trivial comedy for serious people." The play uses humor to address issues of identity and relationships and employs mistaken identities, plot twists and "madcap action." Tonight's performance takes place at 7:30 at the Outcalt Theatre. Performances continue through March 3. Tickets start at $15. (Niesel)
Outcalt Theatre
(map)
1407 Euclid Ave
Downtown/Flats/Warehouse District
216-241-6000
Showing 1-2 of 2 total results in this search.