Art Exhibits Today – User Submitted
4 total results
Wednesdays, Fridays, 10 a.m.-9 p.m. and Tuesdays, Thursdays, Saturdays, Sundays, 10 a.m.-5 p.m. Continues through Dec. 2
Museum Exhibits, Art Exhibits
Cleveland native Allen Ruppersberg (born 1944) pays homage to his hometown in this new body of work. Commissioned by FRONT International: Cleveland Triennial for Contemporary Art FREE
Cleveland Museum of Art
(map)
11150 East Blvd.
East Side/University Circle/Little Italy
216-421-7350

Through Nov. 18, 10 a.m.-5 p.m.
740-354-5629
Art Exhibits
Anthony Eterovich was a Cleveland artist who steadfastly celebrated that city in his art throughout his entire life. He studied under John Teyral and Viktor Schreckengost at the Cleveland School of Art (now the Cleveland Institute of Art) after receiving a full scholarship; he in turn influenced countless students while on faculty there for more than 50 years. His work is in the permanent collections of the Butler Institute of American Art, the Cleveland Museum of Art, the Artists Archives of the Western Reserve and ARTneo.
Southern Ohio Museum
(map)
825 Galia Street
Southern OH
(740) 354-5629
Fri., Nov. 16, 5-9 p.m. and Fri., Dec. 21, 5-9 p.m.
216-570-8201
northcoastpromo@hotmail.com
Fairs/Festivals, Art Exhibits
Free Admission! Join us on the First Floor in SmART Space and/or the Ramp Level of the 78th Street Studios for Third Friday Art Walk between 5pm -9:00 pm. Indoor Art Walk with 50+ Studios and Galleries. Northcoast Artisans' Market features up to 20 local ever changing guest artists each month. Fine Art & Handmade Crafts – Support Local Art and Small Business! This show is held every Third Friday from January through December - Applications accepted all year. 1305 W. 80th Street Cleveland, OH 44102 Free
78th Street Studios
(map)
1305 W. 80th Street
Western Suburbs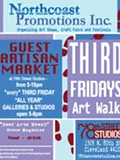 Fri., Nov. 16, 6:30-9:30 p.m., Sat., Nov. 17, 10 a.m.-5 p.m. and Sun., Nov. 18, 10 a.m.-4 p.m.
440-227-7471
lauren@dunhamtavern.org
Art Exhibits
Discerning dealers offering 19th-20th century antiques, collectibles, and decorative arts. Friday preview dessert reception, $60/person. Weekend admission, $10 (good for both days). Guest speaker Tess Rosch from Early American Life magazine at 12:00 pm on Sunday. $60 preview dessert reception; $10 weekend admission (good for both days)
http://dunhamtavern.org
Shaker Heights Country Club
(map)
3300 Courtland Rd.
Eastern Suburbs
216-991-3660

Showing 1-4 of 4 total results in this search.