Fairs/Festivals Next 7 Days
8 total results
Fri., Nov. 16, 5-9 p.m. and Fri., Dec. 21, 5-9 p.m.
216-570-8201
northcoastpromo@hotmail.com
Fairs/Festivals, Art Exhibits
Free Admission! Join us on the First Floor in SmART Space and/or the Ramp Level of the 78th Street Studios for Third Friday Art Walk between 5pm -9:00 pm. Indoor Art Walk with 50+ Studios and Galleries. Northcoast Artisans' Market features up to 20 local ever changing guest artists each month. Fine Art & Handmade Crafts – Support Local Art and Small Business! This show is held every Third Friday from January through December - Applications accepted all year. 1305 W. 80th Street Cleveland, OH 44102 Free
78th Street Studios
(map)
1305 W. 80th Street
Western Suburbs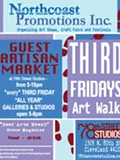 Sat., Nov. 17, 9 a.m.-3 p.m. and Sun., Nov. 18, 11 a.m.-3 p.m.
216-570-8201
northcoastpromo@hotmail.com
Fairs/Festivals
Free Admission! Fall & Christmas Holiday Shopping – 60+ local Handmade only Artist & Crafter booths featuring fashion apparel & home décor for the upcoming holidays. Baked Goods & Good European Ethnic Foods made by the Church for eat in or take out benefiting the church. Raffles for prizes too! November 17, 2018 9am to 3pm November 18, 2018 11am to 3pm Free
Holy Spirit Byzantine Catholic Church
(map)
5500 West 54th Street
Western Suburbs
216-570-8201
northcoastpromo@hotmail.com
Sat., Nov. 17, 9 a.m.-3 p.m.
NorthRoyaltonCraftShow@aol.com
Fairs/Festivals
Get an early start on your holiday shopping at the 38th Annual North Royalton High School PTA Holiday Craft Show! With more than 175 vendors and thousands of handmade goods, there is sure to be something for everyone on your list! We also offer CONCESSIONS, RAFFLES and FREE PARKING! The event will be held on Saturday November 17, 2018 at the North Royalton High School 14713 Ridge Road from 9:00 am-3:00 pm. Admission is $2, kids under 5 are FREE. Vendor applications will be taking through November 1st. For more info, contact us at NorthRoyaltonCraftShow@aol.com and LIKE us on Facebook 2.0
North Royalton High School
(map)
14713 Ridge Rd.
Western Suburbs
(440) 582 7801
Sat., Nov. 17, 9 a.m.-5 p.m. and Sun., Nov. 18, 9 a.m.-3 p.m.
Fairs/Festivals
Alpacas will be featured in the show ring competition, comprised of classes judging conformation & fleece quality in many categories for both Suri and Huacaya alpacas. A Novice Halter Class will take place in which newer breeders can compete against their peers and yet advance to the Color Championship in each color division. Mentoring programs will also be offered to help new alpaca owners compete in the show ring and better manage their breeding programs. Artisans will showcase examples of felting, fiber arts and more. Vendors and farm displays will sell the latest alpaca fashions and hand-crafted items. FREE
http://buckeyealpacashow.com
Summit County Fairgrounds
(map)
229 E. Howe Rd.
Akron/Summit County
330-633-6200
Sat., Nov. 17, 10 a.m.-5 p.m. and Sun., Nov. 18, 11 a.m.-5 p.m.
440-227-8794
becki@ag-shows.com
Fairs/Festivals, Family & Kids, Fund-Raisers
Tis' the season to shop! Join us this spring for our annual Rocky River fall event! This large show will feature artists and crafters selling their original handmade items at this beautiful venue! $3.00, children under 12 free
http://www.avantgardeshows.com
Rocky River Memorial Hall (Next to Rec)
(map)
21016 Hilliard Blvd
Western Suburbs
(440) 356-5656

Sat., Nov. 17, 10 a.m.-6 p.m.
216-221-8076
guidance@harmonicjourneys.net
Fairs/Festivals
Join Harmonic Journeys in giving back to the community. November 17 is our annual food drive holistic fair. Free admission with the donation of a non-perishable food or toiletry item. We're honored to have the always popular Rainbow Eagle with us as featured speaker. As always, enjoy free lectures, special events in our Holistic Health and Healing room, organic vegan food, readings, and our fabulous lineup of holistic vendors! http://www.harmonicjourneys.net/holistic-fair-showcase $5
http://www.harmonicjourneys.net/holistic-fair-showcase
Sat., Nov. 17, 1:30-5 p.m.
440-452-3406
tmr1531@yahoo.com
Fairs/Festivals
Stop in and shop this healing space & vendors specific to your Health, Wellness & Beauty! Bring a canned item for a free ticket for our raffle basket. We will have Paparazzi, Color Street, Jamberry, Juice Plus, NeuroTrance, Henna tattoos, mini-Reiki and mini-massages $20/20 min., doTERRA, Anupama oils and more. Parking next door at Metro hospital. (sm. fee) Free
https://www.eventbrite.com/e/fall-health-wellness-beauty-fair-tickets-51628705849
Earth Angels Holistic Health
(map)
3518 Scranton Rd
West Side/Ohio City/Tremont/Detroit Shoreway
216) 861-9000
Every third Saturday, 8-11:45 p.m. & 12-1 a.m.
234-525-1956
akronmusicscenefestival@gmail.com
Music Around Town, Rock & Pop, Fairs/Festivals
Akron Music Scene Festival: A festival of bands, artists, comedians, vendors, and more! Stop out every 3rd Saturday at the historic Rialto Theatre for great live music! Entry: $3 21+ with valid I.D. --Doors 7:30PM-- --Bands 8-1AM-- $3
http://Facebook.com/AkronMusicSceneFestival/Events
The Rialto Theatre
(map)
1000 Kenmore Blvd.
Akron/Summit County
(234) 525-1956
Showing 1-8 of 8 total results in this search.