! -- End Google Fonts -->
Narrow Search
Narrow by date

Category

Neighborhood

Show only

Occurrence
Other Searches
Film This Weekend
2 total results
Aug. 25-31, 7-9 p.m.
Film
SYNOPSIS: Emerging from a NY subway on her way home from college, Lucy (Brittany Snow, Pitch Perfect) discovers her neighborhood of Bushwick engulfed in utter chaos. Trying to escape the violence, Lucy seeks refuge in the basement of Stupe (Dave Bautista, Guardians of the Galaxy), a former Marine on his way out of town to find his family. As the unlikely pair navigate through a hail of gunfire and lethal explosions, they learn they are in the middle of a civil war as Texas attempts to secede from the US. $10
AMC Classic Solon 16
(map)
6185 Enterprise Pkwy
Central OH
8058320253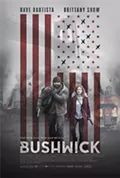 Sat., Aug. 26
Film
Stray cats have lived in Istanbul for thousands of years, nearly as long as the city has been standing. The new documentary Kedi offers a gallery-style view of the cats inhabiting Istanbul while citizens offer their thoughts and feelings about the animals in their respective communities. The film shows how the cats live on a day-to-day basis and posits that, despite their stray nature, they have essentially become citizens of Istanbul. It doesn't have one dominant story to tell, making Kedi closer to an observational nature documentary than a standard narrative documentary. The film is at its best when it allows the audience to focus on a particular cat for a length of time, like the hardened fish thief called "Psychopath" or the rough-and-tumble cafe cat named "Carefree." Allowing the personalities of the cats to shine pushes the film into more than just animal photography. It shows tonight at 8:15 and tomorrow night at 8:25 at the Cleveland Institute of Art Cinematheque. Tickets are $10, $7 for Cinematheque members and anyone under 25. (Johnny Cook)
Cleveland Cinematheque
(map)
11610 Euclid Ave.
Eastern Suburbs
216-421-7450
Showing 1-2 of 2 total results in this search.
Newsletters
Never miss a beat
Sign Up Now
Subscribe now to get the latest news delivered right to your inbox.