! -- End Google Fonts -->
Narrow Search
Narrow by date

Category

Neighborhood

Show only

Occurrence
Other Searches
Film Today
3 total results
Mon., Jan. 21
Film
Director Peter Jackson's World War I documentary They Shall Not Grow Old showed last month in limited release, and it returns to area theaters for screenings today at 1 and 7 p.m. The documentary provides "an extraordinary look" at the soldiers and events of the Great War by using film footage that has been painstakingly restored. Jackson sifted through 600 hours of BBC archival interviews to deliver an "intensely gripping, immersive and authentic experience through the eyes and voices of the British soldiers who lived it." Consult the Fathom Events website for more information about locations and ticket prices. (Niesel) fathomevents.com.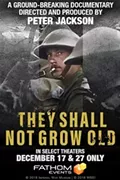 Mon., Jan. 21, 1-3 p.m.
216.795.7077
info@karamuhouse.org
Film
Karamu House In the Tradition Series presents: A film screening celebrating the life of Dr. Martin Luther King, Jr. Monday, Jan 21, 2019 | 1PM Karamu House | Jelliffe Theatre FREE + open to the public. Reservation REQUIRED for all attendees. Limit 2 tickets per reservation. Open to all ages, children under 16 must be accompanied by an adult. Free but registration is requested
https://karamuhouse.org/ticket-info/58
Karamu House, Inc.
(map)
2355 East 89th St.
East Side/University Circle/Little Italy
(216) 795-7070
Through Jan. 24, 7 p.m.
Film
A teenage boy's infatuation with a woman he sees on the bus further complicates his already tumultuous adolescence.
Atlas Cinemas Diamond Center
(map)
9555 Diamond Centre Drive
Mentor/Lake County
(440)352-8822
Showing 1-3 of 3 total results in this search.
Newsletters
Never miss a beat
Sign Up Now
Subscribe now to get the latest news delivered right to your inbox.