Books, Lit, & Authors This Weekend
2 total results
Sat., Nov. 17
The wife of concert promoter Jules Belkin, Cleveland's answer to Bill Graham, Fran Belkin recently published her first book, Rock This Town. Inspired by the collection of concert T-shirts in her attic, she wrote the book about the more than 30 years of Cleveland rock 'n' roll history she experience with Belkin Productions. The book includes vintage snapshots, concert photography and "intimate stories" shared by the Belkin Productions crew who lived them. Belkin participates in a book signing at 1 p.m. today at Visible Voice Books. Admission is free. (Niesel)
Visible Voice Books
(map)
2258 Professor Ave.
Downtown/Flats/Warehouse District
216-961-0084
Fri., Nov. 16, 6:30-8 p.m.
216-320-4757
info@lakeerieink.org
Speak your mind at this open mic for teens in grades 6-12. Bring poems, stories, or songs to share, or write one while you're here. Doors open at 6:30pm; reading begins at 7pm. All are invited to listen, and no registration is required. Come to perform, write, watch, or eat! Pizza will be provided. Location TBD. Free
http://lakeerieink.org/event/teen-open-mic-nov18/?instance_id=6861
Lake Erie Ink
(map)
2843 Washington Blvd.
Eastern Suburbs
216-320-4757
staff@lakeerieink.org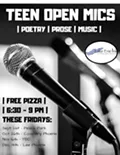 Showing 1-2 of 2 total results in this search.