Books, Lit, & Authors Tomorrow
2 total results
Fri., Nov. 16, 6:30-8 p.m.
216-320-4757
info@lakeerieink.org
Speak your mind at this open mic for teens in grades 6-12. Bring poems, stories, or songs to share, or write one while you're here. Doors open at 6:30pm; reading begins at 7pm. All are invited to listen, and no registration is required. Come to perform, write, watch, or eat! Pizza will be provided. Location TBD. Free
http://lakeerieink.org/event/teen-open-mic-nov18/?instance_id=6861
Lake Erie Ink
(map)
2843 Washington Blvd.
Eastern Suburbs
216-320-4757
staff@lakeerieink.org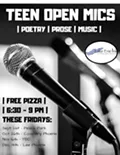 Third Friday of every month, 7 p.m.
The Poet's Haven presents Stardust Poetry at Karma Cafe! The show includes an open-mic and featured poets and/or performers. Many of these shows are also the launch of new Poet's Haven Author Series books, with the author as a feature as often as possible. All ages are welcome, though parents should be aware that some performances may contain adult language. FREE
Karma Cafe
(map)
4339 Dressler Road NW
Canton/Stark County
330-492-8900
Showing 1-2 of 2 total results in this search.