! -- End Google Fonts -->
Narrow Search
Narrow by date

Category

Neighborhood

Show only

Occurrence
Other Searches
Politics Search
1 total results
Sat., Aug. 19, 8 a.m.-8 p.m. and Sun., Aug. 20, 8 a.m.-8 p.m.
info@mercysdoorpetrescue.org
Sports (Spectator), Fund-Raisers, Politics
Come out to watch The Joey Softball Tournament on a beautiful summer weekend! Mercy's Door Pet Rescue Inc. is honored to be a part of this annual charity softball tournament, hosted by Cliff J. Majni and GSL Softball Ohio. We will be accepting donations of supplies at this event (see list on flyer) and raffling off a certified Pete Rose autographed bat. All proceeds will benefit our wonderful rescue dogs! We look forward to meeting you! Donations will be collected for Mercy's Door Pet Rescue.
http://www.mercysdoorpetrescue.org
James Day Park (Nike Site Park)
(map)
11828 W. Pleasant Valley Rd.
Western Suburbs
(440) 885 - 8144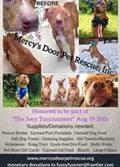 Showing 1-1 of 1 total results in this search.
Newsletters
Never miss a beat
Sign Up Now
Subscribe now to get the latest news delivered right to your inbox.