Theatrical Events Tomorrow
3 total results
Thu., Nov. 15, 7 p.m. and Mon., Nov. 19, 7 p.m.
Theatrical Events, Film, Dance Performances
Back by popular demand! From Andy Blankenbuehler, winner of the 2017 Tony Award® for Best Choreography for BANDSTAND and the 2016 Tony Award for Best Choreography for HAMILTON, comes the new musical that explodes with the most high-octane, heart-stopping and best dancing on stage today. 1945; as America's soldiers come home to ticker-tape parades and overjoyed families, Private First Class Donny Novitski (Ohio native Corey Cott), singer and songwriter, returns to rebuild his life with only the shirt on his back and a dream in his heart.
https://www.fathomevents.com/events/bandstand-the-broadway-musical-encore
Regal Richmond Town Square Stadium 20
(map)
631 Richmond Road
Eastern Suburbs
(844) 462-7342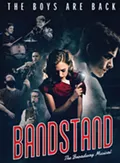 Thu., Nov. 15, 7:30-9:30 p.m., Fri., Nov. 16, 7:30-9:30 p.m., Sat., Nov. 17, 7:30-9:30 p.m. and Sun., Nov. 18, 2-4 p.m.
216-241-6000
Theatrical Events
This multi-award-winning musical follows a scarred woman who embarks on a cross-country bus trip to be healed by a minister... discovering the true meaning of beauty along the way. $5-$15
https://www.playhousesquare.org
Helen Rosenfeld Lewis Bialosky Lab Theatre
(map)
1407 Euclid Ave
Downtown/Flats/Warehouse District
216-241-6000

Thursdays-Saturdays, 7:30-9 p.m. and Sundays, 3-4:30 p.m. Continues through Nov. 20
216-795-7077
info@karamuhouse.org
Theatrical Events, Comedy
DAY OF ABSENCE written by DOUGLAS TURNER directed by NATHAN A. LILLY ARENA THEATRE A Reimagined Classic. A one-act satire about an imaginary Southern town where all the black people have suddenly disappeared. As they mysteriously reappear, the white community, sobered by the experience, breathes a sigh of relief. Performed as a "reverse minstrel show", actors are wearing whiteface to add additional texture to the plot. Social Justice Series. Post show talkbacks will be scheduled. $20 - $40
https://www.karamuhouse.org/ticket-info/49
Karamu Performing Arts Theatre
(map)
2355 E. 89th St.
Eastern Suburbs
216-795-7070
Showing 1-3 of 3 total results in this search.