On Tour This Weekend – Tickets Available
1 total results
Sat., Sept. 22, 8 p.m.-1 a.m.
216
thewinchesterbaroh@gmail.com
On Tour
Ziggy Stardust, Alladinsane, Major Tom, The Thin White Duke, The Man Who Fell To Earth, The Earthling….all masks of an actor - The Cracked Actor, David Bowie. The influence David Bowie has had over rock music, and perhaps our culture itself, is immeasurable. David's ability to reinvent himself while challenging the world of music and art, pushing the boundaries as it were, guarantee him a permanent place in the history of entertainment. It is with this belief that Diamond Dogs – The Sound & Vision of David Bowie exists. $10
http://www.ticketfly.com/event/1724237
The Winchester
(map)
12112 Madison Ave.
Western Suburbs
216-600-5338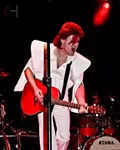 Showing 1-1 of 1 total results in this search.