Music Around Town Tomorrow
2 total results
Fri., Jan. 18, 7:30-9 p.m.
216-302-8404
Music Around Town
Medieval music brought to life for audiences with a multimedia program featuring works from a recently-discovered 15th-century songbook produced in partnership with Chicago's Newberry Consort. $5-35
Holy Trinity Lutheran Church
(map)
50 N. Prospect St.
Akron/Summit County
330-376-5154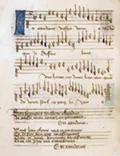 Nighttown
(map)
12387 Cedar Rd.
Eastern Suburbs
216-795-0550
Showing 1-2 of 2 total results in this search.