! -- End Google Fonts -->
Narrow Search
Narrow by date

Category

Neighborhood

Show only

Occurrence
Other Searches
Fashion Today
1 total results
Sat., Sept. 22, 1-3 p.m.
216-721-5722
tickets@wrhs.org
Fashion, Classes & Workshops, Museum Exhibits
We're getting hands on with plaid! Try your hand at weaving a tartan with special guest Praxis Fiber Workshop. They will be bringing a loom to demonstrate the process, and invite attendees to try their hand at weaving plaid. A special treat: Hale Farm will also be joining us for demonstrations. Come get hands on with history and plaid! $10
https://www.wrhs.org/events/style-me-saturdays-weaving-plaid-praxis-fiber-workshop/
Cleveland History Center
(map)
10825 East Blvd
East Side/University Circle/Little Italy
2167215722
info@wrhs.org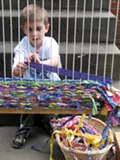 Showing 1-1 of 1 total results in this search.
Newsletters
Never miss a beat
Sign Up Now
Subscribe now to get the latest news delivered right to your inbox.