! -- End Google Fonts -->
Narrow Search
Narrow by date

Category

Neighborhood

Show only

Occurrence
Other Searches
Family & Kids Today
2 total results
Through Dec. 18, 12 a.m.-11:45 p.m.
415-512-6432
danielle.dodson@kingcompr.com
Family & Kids
The Helen Diller Family Foundation is now accepting nominations for the 2019 Diller Teen Tikkun Olam Awards, a program that recognizes up to 15 Jewish teens annually with $36,000 each for exceptional leadership and impact in volunteer projects that make the world a better place. 0
http://www.dillerteenawards.org
ALoft Cleveland Downtown
(map)
1111 West 10th Street
Downtown/Flats/Warehouse District
212.343.3920
eaustin@thinkpublicrelations.com
Wed., Nov. 21, 11 a.m.-5 p.m., Fri., Nov. 23, 11 a.m.-5 p.m. and Mon., Nov. 26, 9 a.m.-5 p.m.
440-232-5444
jl@roselandlanes.com
Family & Kids, Seasonal Special Happenings, Sports (Participatory)
Schools Out-come bowling. $8 for 90 minutes of bowling & shoes $8
http://www.roselandlanes.com
Roseland Lanes
(map)
26383 Broadway Ave.
Southern Suburbs
440-232-5444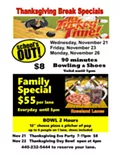 Showing 1-2 of 2 total results in this search.
Newsletters
Never miss a beat
Sign Up Now
Subscribe now to get the latest news delivered right to your inbox.