Dance Performances Next 7 Days
3 total results
Mon., Nov. 19, 7 p.m.
Theatrical Events, Film, Dance Performances
Back by popular demand! From Andy Blankenbuehler, winner of the 2017 Tony Award® for Best Choreography for BANDSTAND and the 2016 Tony Award for Best Choreography for HAMILTON, comes the new musical that explodes with the most high-octane, heart-stopping and best dancing on stage today. 1945; as America's soldiers come home to ticker-tape parades and overjoyed families, Private First Class Donny Novitski (Ohio native Corey Cott), singer and songwriter, returns to rebuild his life with only the shirt on his back and a dream in his heart.
https://www.fathomevents.com/events/bandstand-the-broadway-musical-encore
Regal Richmond Town Square Stadium 20
(map)
631 Richmond Road
Eastern Suburbs
(844) 462-7342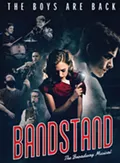 Fri., Nov. 16, 8 p.m. and Sat., Nov. 17, 8 p.m.
216-368-5246
Dance Performances
The Department of Dance at Case Western Reserve University celebrates movement and innovation by leading off the 2018-19 season with Mosaics, a collection of new, revisited, and guest artist dance works. Showcasing the department's successes with the use of new technologies, the program will feature the return of Gary Galbraith's visually stunning dance Imagined Odyssey as well as a new work marking another installment in his series of 'media rich' dance-works. Injecting high energy will be Caffeinated, the fast paced work by renowned choreographer Larry Keigwin contrasted by the grace of Nai-Ni Chen's Bamboo Prayer. General admission is $15, Senior and CWRU faculty/staff tickets are $10, student tickets are $7. Cash/Check ONLY
Mather Dance Center
(map)
11201 Bellflower Rd.
Eastern Suburbs
1-800-348-2234
Through Nov. 17, 7:30-9:30 p.m.
330-972-7895
Administration.arts@gmail.com
Dance Performances
This evening of dance is a collection of individual works and styles by UA choreographer Nick Carlisle, and guest choreographers Holly Bass, Mary-Elizabeth Fenn and Kaleb Reilly.The dance styles presented by the artists are a blend of contemporary modern and contemporary ballet styles. Tickets are $12 for general admission, $10 for seniors, alumni, UA faculty and staff, and $6 for students.
https://www.uakron.edu/dtaa/performances/event-pages/2018-2019/uadc+fall-2018-event-page?com.dotmarketing.htmlpage.language=1&host_id=5ce88b4e-45bc-4870-bd1e-3cb8399a11a1
Paul A. Daum Theatre
(map)
328 Buchtel Common
Akron/Summit County
Showing 1-3 of 3 total results in this search.