Seasonal Special Happenings Tomorrow
6 total results
Thu., May 23
Seasonal Special Happenings
The Brooklyn-based folk-noir duo Charming Disaster's songs address themes like love, death, crime, ancient mythology and the occult, and the group cites the Gothic humor of Edward Gorey and Tim Burton, the noir fiction of Raymond Chandler, American murder ballads and the "dramatic flair" of the cabaret as inspirations. Tonight, the band returns to town in support of its new album, SPELLS + RITUALS. It performs at 7 at the Good Goat Gallery in Lakewood with local favorites Pinch and Squeal. Admission is $13. (Niesel)
the good goat gallery
(map)
17012 Madison Ave.
West Side/Ohio City/Tremont/Detroit Shoreway
440-799-0675
nancy@thegoodgoatgallery.com

Thu., May 23
Seasonal Special Happenings
A festival put on and organized by the Chagrin Valley Jaycees, Blossom Time is an annual fundraiser that sends proceeds to charities and causes. It takes place tonight through Sunday at Riverside Park. There will be a carnival with a midway complete with games, food and rides. The music lineup includes Brent Kirby, who hosts his 10 X 3 Songwriter Showcase tonight at 8, and original acts such as Diana Chittester, Holden Laurence and By Light We Loom, who all play tomorrow. Admission is free. See the website for details. (Niesel)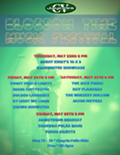 Cheap Shotz (former McKennas)
(map)
10323 & 27 Lorain Ave
West Side/Ohio City/Tremont/Detroit Shoreway
440-941-4497
cheapshotz@att.net
Tuesdays, 7:30-9 p.m. and Thursdays, 7:30-9 p.m.
440-523-0321
ryan@sixthcitytriviaco.com
Food/Drink, Seasonal Special Happenings, Promotional
Break out those thinking caps and stick a pen in that pen protector, Sixth City Trivia Co. is ready to take your mind for a ride! Team trivia, hosted live, with house prizes for 1st, 2nd, and 3rd place winning teams! Starting April 28th, two great ways to get your trivia fix: General Trivia Tuesdays: 7:30 PM at Wall Street Tavern or Entertainment Trivia Thursdays: 7:30 PM at Wall Street Tavern. Wall Street Tavern is located at 5515 Broadview Rd., Parma, Ohio 44134 (behind Karate Center). Free
http://www.sixthcitytriviaco.com
Paris Room Bistro
(map)
7 North Franklin St.
Eastern Suburbs
440-247-0444
Nine Muses Art Gallery
(map)
584 West Tuscarawas Ave.
Akron/Summit County
3302218363
espeelman@ndsohio.org
Showing 1-6 of 6 total results in this search.