Seasonal Special Happenings This Weekend – Staff Pick
3 total results
Sat., Feb. 23
Seasonal Special Happenings
This year marks the 10th installment of Brite Winter, the popular winter music festival that takes place on the West Bank of the Flats. The L.A.-based indie rock act Smallpools will headline the event, and some of the city's best local bands, including Ezri, Mourning [A] BLKstar, the Vindys, Uptowne Buddha, Ray Flanagan & the Authorities, and Muamin Collective are scheduled to perform. There will be ice carving demonstrations and other art installations as well. The event runs from 3 p.m. to 1 a.m., and admission is free. (Niesel)
Sat., Feb. 23
Seasonal Special Happenings
Taking place tonight at 7 at the State Theatre, the 28th annual incarnation of this fundraising fete has adopted a unique theme: Jump Back Across the Pond. "Think royal family, Harry Potter and the Beatles," reads the press release. Two bands, Abby Normal and the Detroit Lean and Faction, will perform. Special late-night tickets go for $75, about half the cost of a general admission ticket, and gives partygoers access to the festivities after 9:30 p.m. The event concludes at midnight. Consult the Playhouse Square website for more info. (Niesel)
State Theatre
(map)
1519 Euclid Ave.
Downtown/Flats/Warehouse District
216-241-6000

Sun., Feb. 24
Seasonal Special Happenings
The Pop Tarts, a dynamic 1960s girl singing group will deliver a blast from the past today from 2 to 3 p.m. at the Beachwood Community Center. The Cleveland group features members who go by names such as Luscious Lemon Tart, Wild Blueberry Tart, Very Cherry Tart and Sweet Apple Tart. Expect to hear tracks by acts such as the Chiffons, the Shirelles and the Supremes. Admission is free. (Niesel)
Beachwood Community Center
(map)
25325 Fairmount Blvd.
Eastern Suburbs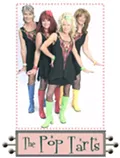 Showing 1-3 of 3 total results in this search.