Seasonal Special Happenings This Weekend – Staff Pick
3 total results
Sat., Nov. 17
Seasonal Special Happenings
Way back in 1999 Travis Bowen worked for Chiller Theater, which at the time was one of the biggest horror conventions on the East Coast. With Dark Xmas, which he founded in December of 2003 in Trumbull County, he sought to emulate Chiller Theater. The festival is still going strong; it comes to Norwood Inn & Suites in Hudson on Nov. 17 and 18. This year's incarnation will feature a Nightmare on Elm Street movie reunion, the original credited Michael Myers from Halloween, the star of the original Sleepaway Camp, zombies from The Walking Dead and lots more. Autographs from celebrity guests, directors, illustrators and others are available for a fee. Celebrities and movie directors will take part in Q&A panels to discuss their careers and past, present and future projects. A gaming station will feature a video game system from the 1980s. Attendees are encouraged to dress as their favorite character in competition for awards for the best dressed cosplay characters. Check the website for a schedule and for ticket prices. (Niesel) darkx-mas.com.
Sun., Nov. 18
Seasonal Special Happenings
The daughter of NFL star-turned-restaurant owner Al Bubba Baker, Brittani Bo Baker has joined forces with Maria Jeancola, a serial networker and the creator of Network Fifty Two, to create a "morning of motivation" for women. Their Girl Boss Business Brunch will take place from 9 a.m. to noon at Bubba's-Q in Avon. The $40 ticket includes business brainstorming over brunch, mimosas, networking and tips on how to start or take an existing business to the next level. (Niesel) eventbrite.com/e/girl-boss-business-brunch-at-bubbas-q-tickets-51198334597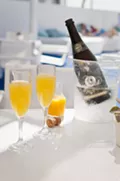 Sun., Nov. 18
Seasonal Special Happenings
One of the "most original and sensitive artists" of his generation, pianist Alon Goldstein has been praised for his musical intelligence and dynamic personality. He regularly performs throughout the United States, Europe and Israel. Today, as part of Tri-C's Performing Arts series, he plays a free show at 2 p.m. at the Gartner Auditorium at the Cleveland Museum of Art. (Niesel)
Cleveland Museum of Art
(map)
11150 East Blvd.
East Side/University Circle/Little Italy
216-421-7350
Showing 1-3 of 3 total results in this search.