Music This Weekend – Image
6 total results
Fri., Sept. 28, 8 p.m.-12 a.m.
216-496-4329
info@allfaithspantry.org
Music Around Town, Fund-Raisers
Ohio's top reggae artists will again donate their talents in support of All Faiths Pantry's mission, delivering groceries to local low income seniors at no cost to recipients. Carlos Jones & The PLUS Band, Umojah Nation and Jah Messengers Reggae Band Original will raise the roof off Music Box Supper Club Friday, September 28th. $20 In Advance; $25 at the door
http://www.musicboxcle.com/event/reggae-for-food-10-sept28/
Music Box Supper Club
(map)
1148 Main Ave.
Downtown/Flats/Warehouse District
216-242-1250
Fri., Sept. 28, 8-10 p.m.
866-546-1353
Comedy, On Tour
The Houston native is single handedly changing the comedy game, tapping into the minds of teachers around the world and selling out major arenas throughout the country in minutes! Eddie B. is bringing his acclaimed "Teachers Only Comedy Tour" to Cleveland on September 28th! Educators from America to Africa, Dallas to Dubai, New York to New Delhi (and beyond) are getting a lesson in the funniest ways to express their worst frustrations, and they are loving Eddie B.'s uncensored, raw, and hysterically realistic portrayal of a teacher's hectic life, from the point of view of an actual teacher! $25 - $65
http://www.playhousesquare.org/events/detail/eddie-b-teachers-only-comedy-tour
KeyBank State Theatre
(map)
1519 Euclid Avenue
Downtown/Flats/Warehouse District
216-241-6000
Sat., Sept. 29, 10:30 a.m.-4 p.m.
216-302-8404
info@lesdelices.org
Music Around Town
Discover the sounds of Mozart's piano with fortepianist Sylvia Berry as your guide! This all-day event includes informal talks, hands-on exploration of the 18th Century Fortepiano, and a recital by Sylvia Berry at 2:00pm (pre- & post-concert conversations included in ticket). UNDER 18's ARE FREE! $0-$20
https://www.lesdelices.org/event/fortepiano-day/
Plymouth Church
(map)
2860 Coventry Rd.
Eastern Suburbs
216-229-5959

Sat., Sept. 29, 7-11 p.m.
Rock & Pop
Ohio's very own rising Rockstar Mick Blankenship is coming to MUSIC LYNXX! After teaming up with Disturbed's John Moyer, Mick released his solo album titled "Crown of Apathy". His debut single "Transcend the machine" is getting national radio play in the US and Europe! If you like bands like Disturbed, Breaking Benjamin, Sevendust, Seether, Shinedown etc.. you won't want to miss this show! www.mickblankenship.com Mick Blankenship is currently on tour with Puddle of Mudd but will be stopping at Music Lynxx for his own headlining show. Local openers: - The Chewy Center - Fair weather friend - Travis Heeters The $10
https://www.facebook.com/events/329441167615945
Music Lynxx
(map)
7865 Plains Rd
Mentor/Lake County
(440) 299-7740

Sun., Sept. 30, 5-9 p.m.
216-287-0945
kenny.koblitzconsult@gmail.com
Music Around Town
The Cleveland Jazz Orchestra's annual benefit will honor the legacy of vic gelb. The benefit enables the CJO to perform its many educational and entertaining aims throughout our region from year to year. $50/$75/$150
http://clevelandjazz.org/Concerts-Events/Annual-Benefit
Hawken Upper School
(map)
12465 County Line Rd.
Eastern Suburbs
440-423-2120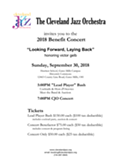 Sun., Sept. 30, 7 p.m.
216-795-3211
Marketing@cim.edu
Music Around Town
Sunday, September 30 7pm | Mixon Hall Mary Kay Fink, flute Frank Rosenwein, oboe Robert Woolfrey, clarinet, guest artist Barrick Stees, bassoon Richard King, horn Chul-In Park, violin, guest artist Lisa Boyko, viola Richard Weiss, cello Scott Dixon, double bass Dean Southern, narrator WOOD Septet in C minor (1889) HARBISON Quintet for Winds (1979) MCGOWAN Annabel (2004) Free seating passes required Free seating passes required
https://www.cim.edu/concerts-events/faculty-recital-music-wood-harbison-mcgowan
Cleveland Institute of Music
(map)
11021 East Boulevard
East Side/University Circle/Little Italy
2167915000
Showing 1-6 of 6 total results in this search.