! -- End Google Fonts -->
Narrow Search
Narrow by date

Category

Neighborhood

Show only

Occurrence
Other Searches
Music Tomorrow – Image
4 total results
Wed., Sept. 26, 5:30-8:30 p.m.
216-721-1600
marketing@cbgarden.org
Rock & Pop
Beer and bands are the perfect pairing this fall. Join us to sample craft brews and and hear great live music on our terrace on Wednesdays in September and October. Tonight's band is Thor Platter. Admission is $5 after 5pm, Beer is $5 for a single and $8 for a tasting flight of three. Admission includes full access to the Botanical Garden including nine acres of outdoor gardens and the Eleanor Armstrong Smith Glasshouse. $5
http://www.cbgarden.org
Cleveland Botanical Garden
(map)
11030 East Blvd.
Eastern Suburbs
216-721-1600
Wed., Sept. 26, 7-9 p.m.
330-657-2909
info@forcvnp.org
Music Around Town, Family & Kids
Bobby Selvaggio is one of the leading alto saxophone voices on today's jazz scene. In the words of pianist Kenny Werner, "Bobby is among the best of players out there," and legendary saxophonist Joe Lovano praises Bobby by calling him "one of the few young saxophonists on the scene today that captures you with his strong presence, focus, and sound." The Bobby Selvaggio Quartet will be featuring Bobby Selvaggio on alto sax, Theron Brown on piano, Dan Pappalardo on bass, and Zaire Darden on drums. Free- $21.00
https://www.conservancyforcvnp.org/event/bobby-selvaggio-quartet-cuyahoga-valley-national-park-concert-series/
Happy Days Lodge
(map)
500 West Streetsboro Rd.
Southern Suburbs
330-657-2909
info@forcvnp.org

Wed., Sept. 26, 8 p.m.
216-795-3211
Marketing@cim.edu
Music Around Town
Wednesday, September 26 8pm | Severance Hall Cleveland Institute of Music Orchestra Thomas Wilkins, guest conductor Daniel Kaler, cello, student artist SHOSTAKOVICH Festive Overture, Op. 96 WALTON Cello Concerto (1956) TCHAIKOVSKY Symphony No. 5 in E minor, Op. 64 Free tickets required, available beginning August 27 Severance Box Office: 216.231.1111 or clevelandorchestra.com This concert is made possible by generous support from Jean and Dick Hipple. Thomas Wilkins' appearance is made possible by the Kulas Visiting Artist Series funded by the Kulas Foundation. Live broadcast on WCLV 104.9 FM and wclv.org with support from Audio-Technica Free — Tickets Required
https://www.cim.edu/concerts-events/cim-orchestra-guest-conductor-thomas-wilkins
Severance Hall
(map)
11001 Euclid Ave.
East Side/University Circle/Little Italy
216-231-1111
Wednesdays. Continues through Oct. 24
Open Mic & Karaoke
Every Wednesday | 8 PM - Midnight | No Cover Hosted by Marco Ciofani Drums, Keys, Bass, Guitar Amps, DIs provided! Play a solo set or jam with other musicians! Read a poem or do stand-up comedy! All artistic expression encouraged! SUPER SPECIAL: 6 Dum Yum Wings & High Life for $6 No Cover
https://www.facebook.com/events/2066041396957777/
CODA
(map)
2247 Professor Ave
West Side/Ohio City/Tremont/Detroit Shoreway
216-274-1200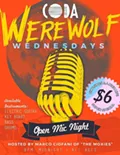 Showing 1-4 of 4 total results in this search.
Newsletters
Never miss a beat
Sign Up Now
Subscribe now to get the latest news delivered right to your inbox.