! -- End Google Fonts -->
Narrow Search
Narrow by date

Category

Neighborhood

Show only

Occurrence
Other Searches
Music Tomorrow – Image
9 total results
Wed., Sept. 19, 8-9:30 p.m.
800-801-7407
Art Exhibits, Spoken Word, Theatrical Events
For many years Henry Rollins has taken photographs on his travels. Join Henry for an intimate evening as he shows many of his favorites. Rollins will present a special performance drawing on experiences and his vast archive of photographs. "For many years, I have documented my travels all over the world with a camera. Never easy but always worth it. The photos have stories behind them. I have selected several images, to show and talk about." A keen observer, Henry will be bringing stories from journeys all over the world, including the Middle East, Africa, Asia, South America and Antarctica $35
http://www.playhousesquare.org/events/detail/henry-rollins-travel-slideshow-tour
Ohio Theatre
(map)
1501 Euclid Ave.
Downtown/Flats/Warehouse District
216-241-6000

Wed., Sept. 19, 5:30-8:30 p.m.
216-721-1600
marketing@cbgarden.org
Rock & Pop
Beer and bands are the perfect pairing this fall. Join us to sample craft brews and and hear great live music on our terrace on Wednesdays in September and October. Tonight's band is Maura Rogers & the Bellows. Admission is $5 after 5pm, Beer is $5 for a single and $8 for a tasting flight of three. Admission includes full access to the Botanical Garden including nine acres of outdoor gardens and the Eleanor Armstrong Smith Glasshouse. $5
http://www.cbgarden.org
Cleveland Botanical Garden
(map)
11030 East Blvd.
Eastern Suburbs
216-721-1600

Wednesdays, 8 p.m.-12 a.m.
216-321-6444
paniniscoventry@gmail.com
Open Mic & Karaoke
Do you want to be the star? The center of attention? The voice on the loud speaker? Here is your chance, join us for the Greatest Show in the World, were you are the Star! Karaoke Wednesday Nights show starting at 8 pm! No Cover Charge
Panini's Covnetry
(map)
1825 Coventry Blvd
Eastern Suburbs
2163216444
paniniscoventry@gmail.com
Mondays-Sundays, 5 p.m.-2 a.m.
440-907-1210
Refreshcle@gmail.com
DJ & Dance, Cabaret & Gentlemen's, DJ & Dance
Each and Every Friday we host Happy Hour from 5-11p called the (RE)memdy with $2 Beers | $5 Martinis | $5 Food Menu and a host of other Specials | Partners #Smirnoff and #CrownRoyal provide weekly giveaways! Music by DJ ESO and DJ Auzzie Beatz. At 10 p.m we transition to our Club Night titled the (RE)up | A night for the city's Urban Professional w/ music by DJ Knyce and DJ Corey Grand. Free before Midnight
Medusa Restaurant and Lounge
(map)
1437 St. Clair
Downtown/Flats/Warehouse District
4409071210
Wednesdays, 7 p.m.
216-932-2543
revbookscle@hotmail.com
A Radical Revolt Against a Revolting Culture UK Slam champion David Lee Morgan spits rhythm, rhyme and intense lyrics over music composed by Michael Harding of Animat. The show begins with the roar of the jungle and follows the broad sweep of human history as it develops through revolution, defeat, and renewed revolution. What can we learn from our past revolutions, both the achievements and mistakes? Are we doomed to be forever controlled by the market forces that rule over us like some blind idiot god? $5 donation to benefit Revolution Books
http://www.revbookscle.org
Revolution Books
(map)
2804 Mayfield Rd.
Eastern Suburbs
216-932-2543
Wed., Sept. 19, 8:30 p.m.
On Tour
Don't miss Van William performing on his headlining US tour at Beachland Tavern in Cleveland on September 19th. His debut album Countries is out now!
Beachland Tavern
(map)
15711 Waterloo Rd.
East Side/University Circle/Little Italy
216-383-1124

Wednesdays, 9 p.m.-2 a.m.
216-381-9100
engelsportsbar@gmail.com
DJ & Dance, Music Around Town
Come enjoy a night of Reggae/Dancehall/Soca/Calyspo/Afro Pop plus much more! A night full of fun with Leisa Engel and DJ Maul FREE
Engel's Sports Bar & Grille
(map)
4030 Mayfield Rd
Eastern OH
2163819100
engelsportsbar@gmail.com
Wednesdays, 7-10 p.m.
330-554-8462
neotango2000@yahoo.com
Dance (Participatory), Music Around Town
Learn Argentine Tango! No Partner Required! at The beautiful historic Taverne of Richfield! 7:00 - 8:30: Tango Lesson 8:30 - 10:00: Practice What you learned! North East Ohio Tango 330-554-8462 $10. for the entire evening! $10
http://neotango.net/home.html
The Tavern of Richfield
(map)
3960 Broadview Road
Eastern Suburbs
330-659-0610
Wednesdays. Continues through Oct. 24
Open Mic & Karaoke
Every Wednesday | 8 PM - Midnight | No Cover Hosted by Marco Ciofani Drums, Keys, Bass, Guitar Amps, DIs provided! Play a solo set or jam with other musicians! Read a poem or do stand-up comedy! All artistic expression encouraged! SUPER SPECIAL: 6 Dum Yum Wings & High Life for $6 No Cover
https://www.facebook.com/events/2066041396957777/
CODA
(map)
2247 Professor Ave
West Side/Ohio City/Tremont/Detroit Shoreway
216-274-1200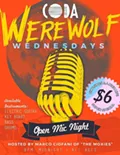 Showing 1-9 of 9 total results in this search.
Newsletters
Never miss a beat
Sign Up Now
Subscribe now to get the latest news delivered right to your inbox.