Music This Weekend – Tickets Available
3 total results
Sat., Sept. 29, 10:30 a.m.-4 p.m.
216-302-8404
info@lesdelices.org
Music Around Town
Discover the sounds of Mozart's piano with fortepianist Sylvia Berry as your guide! This all-day event includes informal talks, hands-on exploration of the 18th Century Fortepiano, and a recital by Sylvia Berry at 2:00pm (pre- & post-concert conversations included in ticket). UNDER 18's ARE FREE! $0-$20
https://www.lesdelices.org/event/fortepiano-day/
Plymouth Church
(map)
2860 Coventry Rd.
Eastern Suburbs
216-229-5959

Sun., Sept. 30, 5-9 p.m.
216-287-0945
kenny.koblitzconsult@gmail.com
Music Around Town
The Cleveland Jazz Orchestra's annual benefit will honor the legacy of vic gelb. The benefit enables the CJO to perform its many educational and entertaining aims throughout our region from year to year. $50/$75/$150
http://clevelandjazz.org/Concerts-Events/Annual-Benefit
Hawken Upper School
(map)
12465 County Line Rd.
Eastern Suburbs
440-423-2120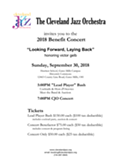 Sun., Sept. 30, 7 p.m.
216-795-3211
Marketing@cim.edu
Music Around Town
Sunday, September 30 7pm | Mixon Hall Mary Kay Fink, flute Frank Rosenwein, oboe Robert Woolfrey, clarinet, guest artist Barrick Stees, bassoon Richard King, horn Chul-In Park, violin, guest artist Lisa Boyko, viola Richard Weiss, cello Scott Dixon, double bass Dean Southern, narrator WOOD Septet in C minor (1889) HARBISON Quintet for Winds (1979) MCGOWAN Annabel (2004) Free seating passes required Free seating passes required
https://www.cim.edu/concerts-events/faculty-recital-music-wood-harbison-mcgowan
Cleveland Institute of Music
(map)
11021 East Boulevard
East Side/University Circle/Little Italy
2167915000
Showing 1-3 of 3 total results in this search.