Arts & Culture This Weekend
2 total results
Fri., Sept. 21, 5-9 p.m., Fri., Oct. 19, 5-9 p.m., Fri., Nov. 16, 5-9 p.m. and Fri., Dec. 21, 5-9 p.m.
216-570-8201
northcoastpromo@hotmail.com
Fairs/Festivals, Art Exhibits
Free Admission! Join us on the First Floor in SmART Space and/or the Ramp Level of the 78th Street Studios for Third Friday Art Walk between 5pm -9:00 pm. Indoor Art Walk with 50+ Studios and Galleries. Northcoast Artisans' Market features up to 20 local ever changing guest artists each month. Fine Art & Handmade Crafts – Support Local Art and Small Business! This show is held every Third Friday from January through December - Applications accepted all year. 1305 W. 80th Street Cleveland, OH 44102 Free
78th Street Studios
(map)
1305 W. 80th Street
Western Suburbs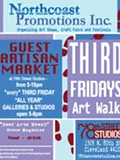 Fridays-Sundays, 8-10 p.m. Continues through Oct. 7
216-521-2540
Theatrical Events
Written by 13-time Emmy Award® winner David Javerbaum (The Daily Show with Jon Stewart), this exceptionally witty comedy delivers a new meaning to the phrase divine intervention. In An Act of God, the Almighty is back and he's got a lot to say. God, and his devoted angels, answer some of the deepest questions that have plagued mankind since Creation. The One with the first and last word on everything has finally returned to set the record straight… and he's not holding back! "The Funniest 90 minutes on Broadway! Comedy Heaven!" – The New York Times "Wickedly funny and irreverent $10-$33
http://www.beckcenter.org/events/an-act-of-god
Beck Center for the Arts
(map)
17801 Detroit Ave.
Western Suburbs
216-521-2540

Showing 1-2 of 2 total results in this search.