Nightlife & Entertainment This Weekend
3 total results
Fri., Nov. 23, 7:30-9:30 p.m. and Sat., Nov. 24, 7:30-9:30 p.m.
216-631-2727
pinchandsqueal@gmail.com
Theatrical Events, Comedy
LADIES AND GENTLEMEN! Its that time! The most anticipated WIZBANG! of the year!! Get you holiday season off to a ridiculous start with VARIETY! CIRCUS! AND MAYHEM!!! Thats right! A full ridiculous show filled with antics of all sorts. Starring a full cast of professional performers. Including a VERY VERY SPECIAL GUEST *announced this weekend* Leave your troubles behind and laugh with us..come inside and experience WIZBANG! Brought to you by Pinch and Squeal.. the only recipients to receive The Best of Cleveland award twice! Wizbang! has been hailed as "The best damn show Ive ever seen" $30
https://www.cptonline.org/performances/seasons/2018-2019/cpt-presents-pinch-and-squeals-wizbang/
Cleveland Public Theatre
(map)
6415 Detroit Ave.
West Side/Ohio City/Tremont/Detroit Shoreway
216-631-2727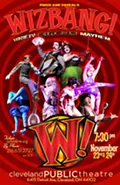 Mondays-Sundays, 5 p.m.-2 a.m.
440-907-1210
Refreshcle@gmail.com
DJ & Dance, Cabaret & Gentlemen's, DJ & Dance
Each and Every Friday we host Happy Hour from 5-11p called the (RE)memdy with $2 Beers | $5 Martinis | $5 Food Menu and a host of other Specials | Partners #Smirnoff and #CrownRoyal provide weekly giveaways! Music by DJ ESO and DJ Auzzie Beatz. At 10 p.m we transition to our Club Night titled the (RE)up | A night for the city's Urban Professional w/ music by DJ Knyce and DJ Corey Grand. Free before Midnight
Medusa Restaurant and Lounge
(map)
1437 St. Clair
Downtown/Flats/Warehouse District
4409071210
Saturdays
866-496-0535
clv.info@thedinnerdetective.com
Theatrical Events, Comedy, Singles
America's largest interactive comedy murder mystery dinner show! Solve a hilarious crime while you feast on a fantastic dinner. Just beware! The killer is hiding somewhere in the room, and you may find yourself as a Prime Suspect! The Dinner Detective Murder Mystery Dinner Show performs weekly. We also offer Corporate Entertainment, Team Building Events and Private Shows that are customized to your group with roles for your group members to play. Join us for a one-of-a-kind public or private event that your guests will talk about for months! $59.95
https://www.thedinnerdetective.com/cleveland/
The Dinner Detective
(map)
1100 Carnegie Ave
Downtown/Flats/Warehouse District
(866) 496-0535
clv.info@thedinnerdetective.com
Showing 1-3 of 3 total results in this search.