! -- End Google Fonts -->
Narrow Search
Narrow by date

Category

Neighborhood

Show only

Occurrence
Other Searches
Events Today
1 total results
Wed., Oct. 17, 5:30-8 p.m.
440-255-8811
jason.lea@mentorpl.org
The Lake-Geauga League of Libraries have organized a health fair and author talk with Beth Macy, writer of "Dopesick: Dealers, Doctors & the Drug Company that Addicted America" – Mentor High School's Paradigm Building. From 5:30 to 6:30 p.m., people can learn about local resources available to those afflicted by addiction. Then, Macy will speak at 6:30 p.m. Few journalists have investigated the nation's opioid epidemic as thoroughly as her. Free
http://www.mentorpl.org/dopesick-beth-macy/
Mentor High School
(map)
6477 Center St.
Mentor/Lake County
440-974-5720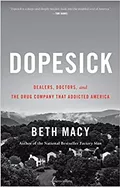 Showing 1-1 of 1 total results in this search.
Newsletters
Never miss a beat
Sign Up Now
Subscribe now to get the latest news delivered right to your inbox.