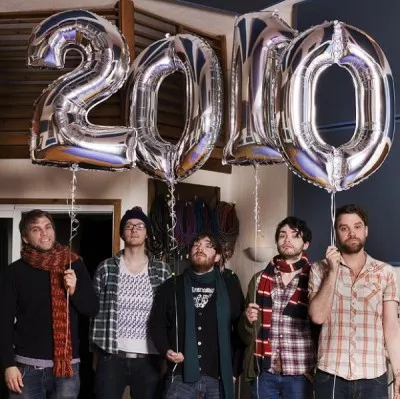 Anyone know what year it is?
Scotland's Frightened Rabbit missed Coachella a couple weeks ago because of the Icelandic volcano, but thankfully nothing prevented them from returning stateside to resume their tour, which played the Grog Shop last night.
Recently expanded to a five-piece, the band's brand of folk-rock picked up the tab from the pub and is continuously tipping higher with each subsequent album. While the barkeep won't mind the excess spending, there's a sense that the extra accompaniment on their third album, The Winter of Mixed Drinks, has the glass overflowing.

Frightened Rabbit smartly played three of the record's strongest tracks — "Swim Until You Can't See Land," "Nothing Like You," and best-of-show "Living in Colour" — all of which ditch the heartbreak of yore, when Scott Hutchinson excelled in self-medicating lyrical quips delivered with a thick Scottish gargle. These newer songs settle into a decidedly more optimistic disposition.

The bulk of Frightened Rabbit's set consisted of songs from their winning sophomore album, The Midnight Organ Fight. The record's title is a euphemism for sex, and Hutchinson didn't dispel any notion of being a dude with dude emotions and thoughts layered in general dudeness. He explained the cross-like symbol on the band's T-shirts isn't an allusion to Jesus, and besides, he said, there's a second line that implies they are twice as important. This quip came with a wink and admission that such talk could get them banned in some states.
An encore that began with "Poke" had Hutchinson poking fun at an off-key, harmonizing audience member, suggesting that he was dying or in the middle of an orgasm.
Frightened Rabbit's urgent performance was a relief for the packed Grog Shop audience, which enthusiastically sang along. Openers Our Brother the Native spun a psych-rock web not far from the Animal Collective nest, while Maps & Atlases rode sturdy bass grooves to the middle ground between Minus the Bear and Vampire Weekend. Both openers proved they deserve more than a shared sentence. —Michael Tkach