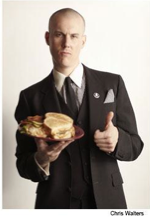 Chris Walters
Matt Fish, Chef/Owner, Melt Bar and Grill, will demo "Classic Comfort Food at its Best" at The Great Big Home & Garden Expo
2013 The Great Big Home & Garden Expo is focused on food lovers.
If you look at the events planned for this year's 2013 The Great Big Home & Garden Expo, taking place at the Cleveland I-X Center February 2nd through the 10th, you may think you're looking at the roster of events for the Fabulous Food Show.
For starters, they'll feature a unique, alfresco — albeit indoor — dining experience in the all-new Cambria Bristo, a full-service, white-linen restaurant that will be located in the Beauty of the Garden Showcase, where some of the area's most talented landscapers will be showing off their US landmark-themed gardens.
Also, several of the area's notable chefs will be on hand to offer demonstrations and cooking tips, including:
Ohio-native Chris Crary, a Season Nine participant and fan favorite from Bravo's popular television series "Top Chef," who will demonstrate "Kitchen Tips and Tricks to a Healthy Lifestyle" on February 9th at 11:00 AM. and 4:00 PM.
Matt Fish, owner and chef of local fave Melt Bar and Grilled (www.meltbarandgrilled.com), will demo "Classic Comfort Food at its Best" on February 2nd and 3rd and 10:00 AM and 1:00 PM, and February 9th at 2:00 PM. Fish will also present a special "Happy Hour" session on February 8th at 5:00 PM.
In addition, the Expo will feature daily, themed demonstrations by local cooking experts on the Loretta Paganini Cooking Stage, some of which include:
"Sensational Soups" and "For the Love of Chocolate" with Stefanie Paganini, ICASI
"Weekend Dinner Ideas" with LouAnn Colaric, Dinner at Six Chef Service
"Pasta Favorites" with Dante Boccuzzi, DBA, Dante, DC Pasto Co.
"Flavors of Sanibel" with Loretta Paganini, Sapore
"Top Shelf Treats" with Becky Rink, About the Cake Inc.
Make plans to visit the 2013 The Great Big Home & Garden Expo. You'll begin to understand why Terence Conran said, " target="_blank"A kitchen provides physical and spiritual nourishment, and for many homes is now the heart and soul of family life.