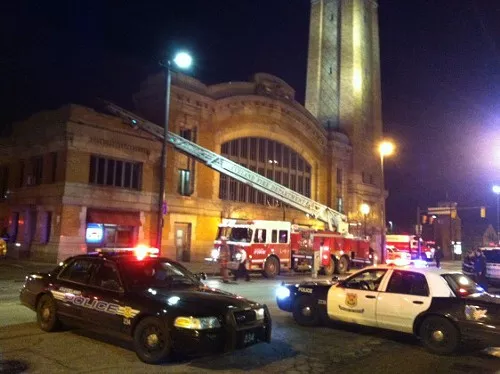 Image: Fox 8 News
Silly Fire Department! There's no fourth meal at WSM!
In the storied Cleveland tradition of prized landmarks randomly combusting, the West Side Market last night fell victim to a fire, reportedly originating at the Sebastian's Meats stand (you know, the place with the suckling pigs).
While the fire itself wasn't extensive and no injuries were reported, pervasive smoke damage prompted the market to shut its doors today. Rob Pilch of Vera's Bakery plaintively distilled the infelicitous mishap: "it stinks." Yes, it does stink—reeks, in fact—of FOUL PLAY.
Late-night luau gone awry? The tragic denouement to a long-simmering feud between Sebastian's and another "meats" vendor? WSM's crack team of market sleuths is on the case, just as soon as they finish this delicious overnight smoked brisket.
The stands will be subjected to Health Department inspections for product damage before the market is allowed to re-open, hopefully before Super Bowl Weekend. Because what's a football game without a bag of smokies?