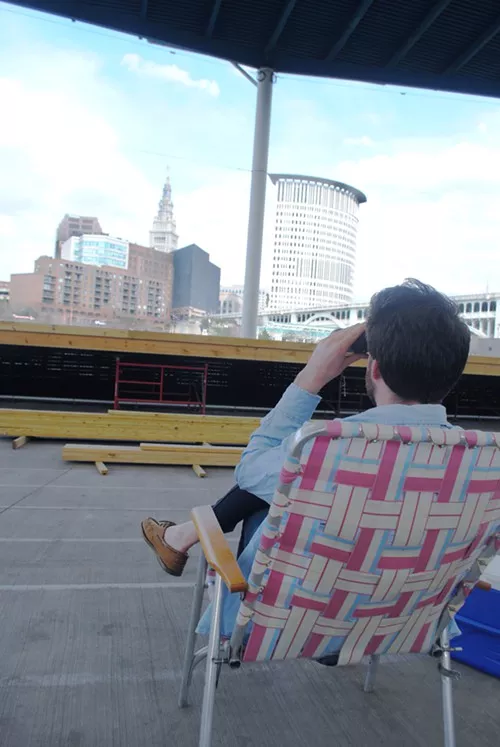 GINA SCORDOS/SCENE
Just preppin' for some summer music magic at Nautica
In tandem with
Scene
's
guide to summer music festival around the state of Ohio
, we'd like to take this moment to feature some of the festies taking place closer to home. Relatively smaller in scale, local music fests abound in and around Cleveland. We've rounded up some choice picks to toss on your calendar for the coming months here. Drop any other suggestions in the comments section below and we'll keep adding to this list as the summertime draws onward.
The Great American Rib Cook-off and Music Festival Less a music fest and more a bacchanal of barbecued meat with a side o' killer concerts, this weekend event nonetheless boasts performances from Rocktopia (May 24), Rick Springfield (May 25), Buddy Guy (May 26) and Bret Michaels (May 27). Local bands will join the stage for some daytime sets throughout the weekend. Lather on some Memphis-style heat, and wander over to the stage for an evening of music with the Cleveland skyline as your backdrop. (Psst... You've got sauce on your face.)
LKWD Music Festival Started last year by Mahall's 20 Lanes on Madison Avenue, this festival boasts a nice combination of local acts and national bands. Just prior to press time, Mahall's owners announced that Talib Kweli will perform at this year's incarnation on Aug. 24. So if for some insane reason you were still looking for a reason to check out the coolest music venue in Lakewood, there you go. Last year's incarnation rounded up a truly diverse lineup throughout the daylong event, including, from Sierra Leone by way of Brooklyn, Janka Nabay and the Bubu Gang. Scene writers were reportedly spotted working over the venue's famous kale margaritas and throwing some some serious moves over in the music hall. We'll see you once again this year (and yes, we recommend the dubious kale marg).
Akron Music Festival Apollo House Productions will host this event June 1, featuring Winslow, Entendre, Dave Hammer's Power Supply and more than a dozen other top-tier acts. The venue is Old Haunts Tavern, a new take on the classic "dive bar as awesome concert hall" motif. As a whole day devoted to killer local tunes, the Akron Music Festival promises to be a dynamic early summer treat. The doors open at 11 a.m. that day, and the whole shebang is free.
facebook.com/akronmusicfestival
Hessler Street Fair On May 18 and 19, the granddaddy of hip once again comes alive. It's the 45th anniversary for this Cleveland institution, and this year's lineup boasts Robin Stone, Carlos Jones and the P.L.U.S. Band and, if civic politics is your thang, Councilman Conwell and Footprints (swoon!). Many more bands round out the offerings, of course. The weekend also involves all sorts of delicious food, killer dance moves, beautifully practical crafts that will put a smile on your face and hand-painted chairs (bring one and they'll paint it for ya!). Check out the website for full details.
Get Hip Festival More than 30 live musical acts will come together July 19 - 21 at Nelson Ledges for a weekend of camping and grooving. With a natural setting as the festival's backdrop, attendees will get to check out an array of unique offerings, including late-night fire juggling and a dueling piano/sing-along bar set up around a giant bonfire in the woods from midnight until 3 a.m. each night. Sounds freakin' awesome. With a goal of inspiring the inner artist in all of us, the folks behind Get Hip hope to rejuvenate the spirit all weekend long. Protip: When a spontaneous dance circle begins, get your ass in there and show 'em how Cleveland does it!
GINA SCORDOS/SCENE
Garrett Komyati from The Modern Electric awaits the summer music lineup at Nautica.
Burning River Festival
If celebrating ecological tragedy is cool, then consider this festie Miles Davis. But seriously, folks, Burning River each year offers a quintessentially "Cleveland" get-together. The party goes down July 26-27 at the U.S. Coast Guard station on Whiskey Island. The lineup is not solidified yet, but last year's fun included Cats on Holiday, Honeybucket, the Burning River Ramblers and, of course, a midsummer appearance from Great Lakes' Christmas Ale. All proceeds from the party benefit the Burning River Foundation, which promotes a sustainable future for local waterways. They've donated more than $300,000 over the years, so grab a beer, shaketh thy ass and have a good time this summer.
Abbey Road on the River Nearly five decades out and you still can't keep Beatlemania down! From Aug. 30 to Sept. 1 - three days in the life of your typical local Beatles fan - a diverse lineup of nostalgic nods to the past will bring the good times to Jacobs Pavilion. Led by Jefferson Starship, All You Need Is Love, Britbeat and more, the weekend lineup is sure to bring a twist and a shout to the audience. Come together for the sake of our shared love. Tickets to ride cost $120, with various other pricing levels available. Dig a pony - er, the website - for more info. Apologies for the puns; we'll just toss on some Abbey Road and chill out until the end.
Blue Sky Folk Festival Getting an early start to the summer music fest season, this May 4 event in Kirtland promises to pluck the banjo strings of your heart. It's also a fun day on the cheap: Tickets are $10 at the door. Billed as a "day-long music jam" (bring your instruments), the festival will include workshops and delicious local food all day. Nora Jane Struthers and The Party Line will headline.