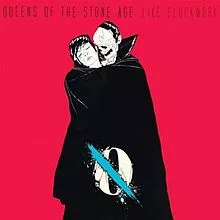 QUEENS OF THE STONE AGE
...Like Clockwork
The new album from Queens of the Stone Age,
...Like Clockwork
, will be released June 3. Thankfully, the music has been hitting the Internet with much intrigue.
The band hasn't been around much in the past few years. They took a hiatus following 2008's Era Vulgaris. Recording for this latest outing didn't begin until last August. From the sound of it all, however, the band definitely has a tight lasso around their potent brand of desert rock with an ever-present tip o' the hat to stoner-friendly textures and moods.
There's something really enticing about the under-two-minutes "Kalopsia," which weaves briefly among the quiet/loud dynamics that frontman Josh Homme has always enjoyed tossing around with fervor. And "Keep Your Eyes Peeled" (embedded below) stirs the pot of sludge Queens of the Stone Age has been brewing since first showing up with self-titled awesomeness in 1998.
Bassist Michael Shuman, with his first full credit in the studio with the band, shines throughout the collection of songs, including the dreamlike "If I Had a Tail."
Oh, yeah: Drummer Dave Grohl returns for appearances on nearly every song on the album.
Enjoy a coupla new tunes below: