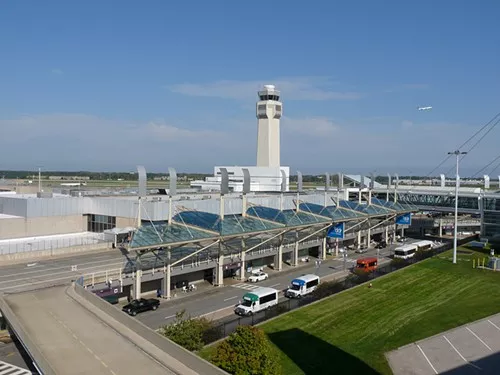 VIA FLICKR USER SKABAT169
The
more frustrating
larger of Northeast Ohio's two major airports has garnered several parking-related headlines in the past month. And much like when Cleveland Hopkins Airport knocked down one of its parking garages to the chagrin of frequent fliers, the latest bout in its parking lot overhaul is causing changes for travelers and, more broadly, the future of the airport.
First, the city of Cleveland authorized the airport to purchase to private parking lots on Snow Road - Airport Fast Park and Park Place. The move cost the city $67 million via revenue bonds and will reel in more than 6,000 parking spots to Cleveland Hopkins' balance sheets. Running the numbers, that's nearly $11,000 per parking spot, give or take the cash needed for "related costs."
Countering the $100 million in parking space revenue (over 15 years) that Cleveland Hopkins will receive are the parking space license fees due to the city of Brook Park, where the two newly purchased lots are located. That's an extra $750,000 annual cost to the airport that Brook Park has been receiving from private owners for years. Note that, given the geography here, Cleveland won't benefit from those fees - even though the city approved the sale of revenue bonds to fund this thing.
In fact, few will benefit, as this project doesn't add parking spaces, really. Among the ideas behind the move was the consideration of increased lines of revenue (duh) and the hope that, ultimately, airlines may see reduced landing fees here in Cleveland, now that parking revenue will skyrocket. It's unclear what the result of that would be in concrete terms.
Cleveland Hopkins spokespeople have said that the two lots' rates would remain at $8 per day, but the latest headlines have the airport spiking prices at other lots.
News dropped this week that the airport will raise rates on two other lots - the Smart Parking Garage and Blue Lot- starting today. The daily cost for each lot will grow by $1.50. (The Smart Parking Garage will now cost $15.50 per day for short-term parking and $11.50 per day after 72 hours. The Blue Lot will now cost $9.50 per day.)
Also, a 1,000-spot parking lot (the Orange Lot) opened Nov. 18, which is acting as some sort of roofless stand-in for the oft-lamented garage demolished earlier this year.
Cleveland travelers have been sounding off on the changes across the Internet over this past year (notably since that garage came down). Drop more of your thoughts in the comments section below.
What tangible improvements or job-creating projects should the airport be undertaking?