ERIC SANDY/SCENE
Port Control Director Ricky Smith discusses the impact of the United news on Monday morning.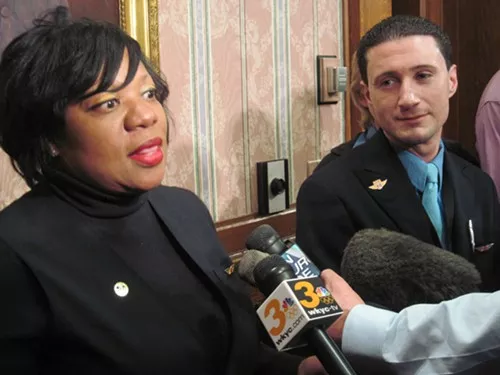 ERIC SANDY/SCENE
United Airlines flight attendants share their side of the story.
United Airlines is pulling the plug on its hub at Cleveland Hopkins, cutting the number of flights out of town along with hundreds of jobs. The news, which broke last weekend, was a crushing slap to the region.
Port Control Director Ricky Smith joined Mayor Frank Jackson at a packed-house press conference on Monday to detail the changes. He vacillated wildly between dramatic overture - "It's a daunting time"; "We will get through this" - and a smoothing of the public's rustled feathers. While "mainline" direct flights won't be deeply cut (we'll lose most flights to Phoenix), it's the "regional" transit that will see a 73-percent decrease. The changes will kick in around April and begin to take effect incrementally.
Smith insists that only 8.3 percent of the Cleveland traveling base will be affected (though there's also, of course, the non-Cleveland travelers who will no longer be passing through our fair airport, as well as the hundreds of employees who are out of a job).
Officials peg job losses around 470 now (430 unionized operations positions and 40 catering positions), with more to come through the domino effect of this news. Concourse D will become something like a ghost town with United cutting a majority of its regional transit. Smith wouldn't elaborate publicly on what future cuts will come as a result of this news. He referenced, for instance, Cleveland Hopkins' concessions program, which will likely see cuts in its overall customer base in Concourse D and elsewhere.
United Board Chairman Jeff Smisek announced the news first to employees on Feb. 1 with a pretty stark letter: "Our hub in Cleveland hasn't been profitable for over a decade, and has generated tens of millions of dollars of annual losses in recent years. We simply cannot continue to bear these losses." The tone of his letter contrasts sharply with United's overall outlook on Cleveland. The company was actually planning on bringing its annual shareholders meeting to Cleveland this summer. (That event has now been moved to Chicago, the closest United hub, which is safely out of target distance for angry Clevelanders wielding tomatoes and assorted projectiles.) And as recently as November 2013, United was extolling the virtues of Cleveland.
"We talk about on time, when we talk about keeping the bag with the customer. Cleveland is performing at a very, very high level in the company and of the eight domestic hubs, we typically are operating 'the best' every month,'" Rich Lisser, the Managing Director of Cleveland Hub Operations, told Fox 8 at the time. (Maybe those air quotes were a subtle hint at what Lisser was really saying.)
Scene spoke with several United flight attendants who explained that the Smisek letter was supposed to be sent to employees prior to the news hitting media outlets. It didn't, and some assert that they were caught completely off guard by reports on TV last weekend. Sounds like internal ops mirror the company's legendarily bad customer service.
"The numbers that they discussed I don't believe are numbers that actually come down," flight attendant Rachel Denny says, adding that there are about 125 regional flight attendants based here in Cleveland that fly for United. Like many others, a lot of them will be out of jobs pretty soon.
As the thread unravels, here's a quick look back to former Ohio Attorney General Richard Cordray's assessment of the Continental-United merger in 2010, even after his office conducted a study: "I am confident that this resolution is the best possible outcome for Cleveland and the state of Ohio."