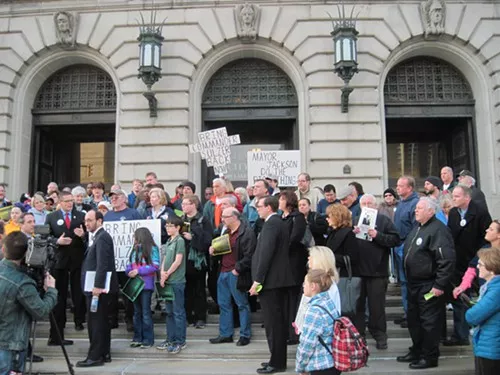 ERIC SANDY/SCENE
Keith Sulzer supporters gather outside City Hall on March 31.
Tonally, yesterday's rally in support of former Second District Commander Keith Sulzer kept in line with last week's gathering on the near west side. This week, Sulzer supporters met on the steps of City Hall to march, chant, and share their concerns about the abrupt move out of his long-held office.
"There are other commanders - and you can get other commanders - but you can't teach somebody to care," Cleveland City Council President Kevin Kelley said as the rally was concluding. "You can't have a marriage between the Second District and its citizens and the police - like the Second District did - without Keith."
Leaders encouraged everyone at the rally - and all Second District residents - to attend next week's Second District Community Relations Committee meeting. It will be held at 7 p.m. April 8 at the Applewood Center, located at West 25th Street and Daisy Avenue. Police Chief Calvin Williams, who ostensibly approved the district command shuffle, is expected to be attendance.