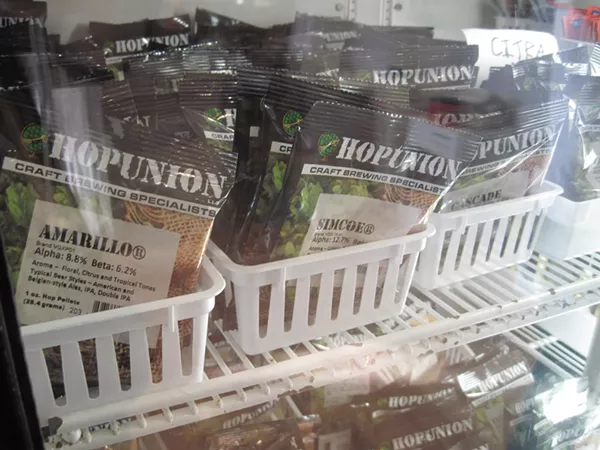 ERIC SANDY/SCENE
Hops provide the bitterness and fill out the flavor of the beer. They're dropped into the boil in all sorts of combinations to turn the beer into the delicious bastard it will one day be.
CLEVELAND BREW SHOP INSTAGRAM
Liquid or powdered yeast gets put into the room temperature beer. It digests the fermentable sugars, leaving carbon dioxide and alcohol. The alcohol is the good stuff.
ERIC SANDY/SCENE
The brew shop has all the equipment you'll need, including kettles and fermenting jars.
ERIC SANDY/SCENE
You'll have to wait four to six weeks or so for the beer to fully ferment. Then: Bottle and cap it!
ERIC SANDY/SCENE
You can buy recipe kits for all sorts of beers. All the ingredients are parsed out and ready to go. Of course, you can get creative and just freestyle with the employees to make your own recipe.
CLEVELAND BREW SHOP INSTAGRAM
The shop sells starter kits that have all the equipment and ingredients you'll need to brew a batch.