Photo Courtesy of Ginko, Website
Dante Boccouzzi's breathtaking sushi boutique features an Eye of the Tiger roll, highlighted with scallops, shiitake,and burdock root.
Photo Courtesy of Instagram User cleyummies
This classic Japanese sushi house focuses on quality and tradition. We suggest the Spider Roll: soft shell crab tempura, cucumber, avocado, fish roe, and eel sauce.
Photo Courtesy of Shinto, Facebook
Before shooting back one of their famous Sake Bombs, try their Samurai Roll. This specialty roll consists of shrimp tempura wrapped in rice and seaweed topped with seared salmon and spicy crab salad.
Photo Courtesy of The House of Hunan, Facebook
Located right on the square in downtown Medina, The House of Hunan showcases a Sweet Potato Roll with tempura fried sweet potato, cucumber, and eel sauce.
Photo Courtesy of Sasa, Facebook
Chef Scott Kim brings real deal sushi to Shaker Square. Our pick is the Green Dragon Roll, Alaskan king crab,eel and tempura crunch topped with avocado and unagi sauce.
Photo Courtesy of Instagram User dreamcube017
Right off of East 4th on prospect Ave sits Sushi 86. A great lunch spot, Sushi 86 features an 8-piece roll called Danny's BLT roll. This roll has bacon, lettuce, tomatoes, spicy mayo, and smoked salmon.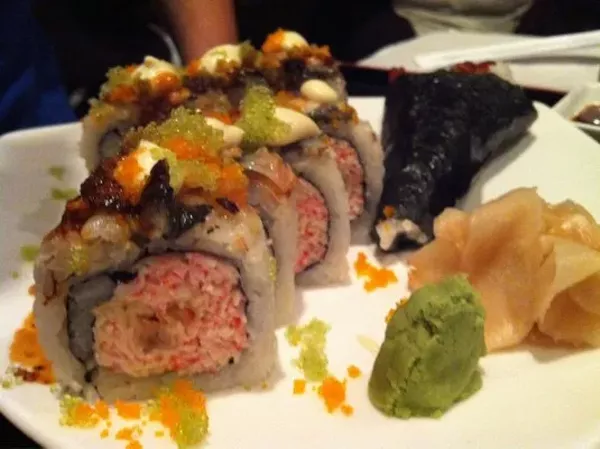 Photo Courtesy of Yelp
This traditional Japanese sushi restaurant offers a vegan's dream roll. Their Vegetarian Hand Roll Heaven consists of a selection of five different hand rolls: all seasonal vegetables like peppers, Shitake mushrooms, Kaiware daikon, asparagus & green bean.
Photo Courtesy of Parallax, Facebook
Zack Bruell's masterpiece features a Surf & Turf roll. This giant eight piece roll is a combination of the lobster and steak roll.