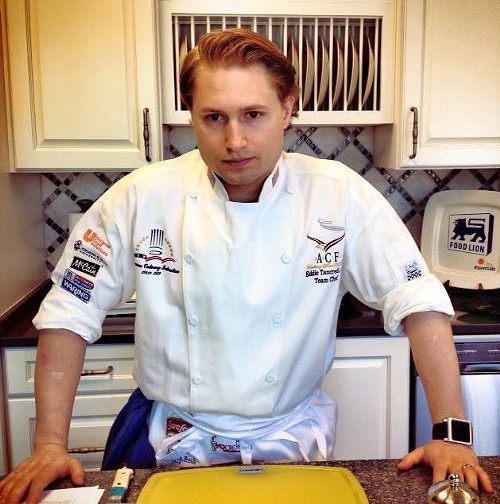 Adega, the feature restaurant at The 9, the high-end hotel and residence complex in the former Ameritrust buildings, has announced its executive chef. Eddie Tancredi, selected as the 2013 Chef of the Year by the American Culinary Federation, has come on board as that restaurant's top chef. At just 30 years old, Tancredi already has built up an impressive culinary CV.
After graduating from the Le Cordon Bleu program at Pennsylvania Culinary Institute, the chef worked nationally at the Greenbrier, Rosendale's in Columbus, and Table 45, where he was chef du cuisine. He also worked in kitchens throughout Europe.
"Adega will focus on modern Mediterranean cuisines," he explains. "We'll utilize fresh seafood, local ingredients, but also specialty imported products that you wouldn't see around Cleveland."
Tancredi will pull flavor profiles from Greece, Italy and Spain, but also from other Mediterranean cuisines as well.
The menu will feature a "meze" section, comprised of small plates and "playful" shareable dishes. Items might include creative cold grain and vegetable salads, platters of tuna and melon, and crispy crab cakes served in slender cigar shapes.
The restaurant will seat 140 indoors (plus many more in private dining rooms) and 70 outside. Breakfast, lunch and dinner will be served not just to residents and guests, says Tancredi, but to the local population as a whole.
"Of course we want to max our hotel guests and residents as much as we can," he says, "but we want to have an independent feel — that personal, local vibe. I'm a local guy."
The vibe, adds the chef, will be energetic and exciting. "We want it to be elegant, but casual enough so that you can come in wearing nice jeans or a suit and tie."
The ambitious project also includes a nightclub, speakeasy and rooftop bar.
Adega is planning for a September opening.