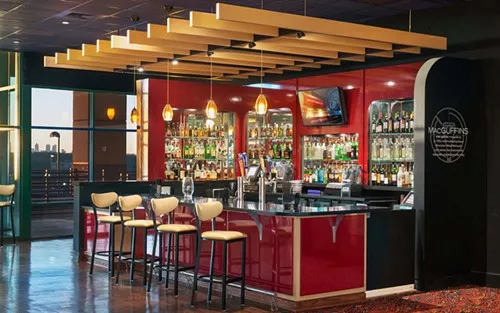 Courtesy of MacGuffins
A "Mini-MacGuffin"
This weekend kicked off the latest in a series of upgrades at Ridge Park Square and Westwood Town Center, Cleveland's two AMC movie theater locations. A "Mini-MacGuffin" bar has been built at Brooklyn's Ridge Park Square and is now open for business, offering beer, wine and liquor to guests who prefer Jack-and-Coke to Mr. Pibb when they're reclining in
AMC's new comfy seats
.
The bar at Ridge Park Square has four beers on tap — Bud Light, Blue Moon, Sam Adams and Yuengling — as well as bottled beer, wine by the glass and assorted spirits (Grey Goose, Ciroc, Jose Cuervo, Jack Daniels — they spared no expense). The Mini-MacGuffin opened on Feb. 14, with Westwood's iteration to follow "sometime next month" per Ridge Park personnel.
"The bars are something we've found to be very popular around the country," says AMC's Public Relations Director Ryan Noonan in a phone interview. He was in Cleveland on Friday for Ridge Park's MacGuffin unveiling.
"The Cleveland theaters, specifically, were older assets, and they needed some TLC." Noonan says. "We wanted to make then movie theaters that people got excited about."
Noonan says that the feedback from guests thus far has been "tremendous." He also verifies that all alcohol purchased at the AMC bar is permitted in the movie theaters.
At this point, ticket prices have not changed, even with the much-loved comfy chairs. Noonan does say, though, that in the future, AMC may have to explore an increase "consistent with the market" to compensate for the reduced seating capacity.
Looks like Cleveland Cinemas no longer has a monopoly on the "movie-and-a-brew" crowd.