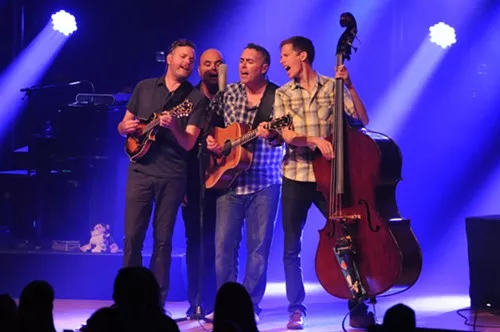 While it would be hard to pick a favorite from the many shows that Barenaked Ladies have played in Cleveland over the years, their 1995 show at the Lakewood Civic Auditorium had an extra added element of humor that was inspired simply by the surroundings. Clearly enjoying the fact that they were playing a venue at a high school, the band members joked about a number of school-related subjects and made reference to having showered with students in the locker room earlier that day. If you had been keeping track of the band's brand of humor up to that point, there was just enough reality built into some of their stories that you could think for a moment that it might be true. You know, maybe they really did shower in the locker room earlier that day...
Even though nearly 20 years has passed since that Lakewood show, there were plenty of moments that hearkened back to those early days, as if nothing had changed, although there have been changes and even a few gray hairs added in for good measure. The band's return to the Lakewood Civic on Wednesday night brought more academic jokes, including musings about the A.V. Club and how there was always at least one mysterious person there who was neither a student or a teacher.
A foursome since the departure of founding member Steven Page in 2009, the band has primarily handed frontman duties to singer/songwriter and guitarist Ed Robertson, who formerly split songwriting and vocal duties with Page for the majority of the group's history. While it might seem possible that the absence of Page would result in a set heavily focused on Robertson's material, the band certainly didn't shy away from songs which had been key Page moments in the past.
As Robertson strummed an acoustic and sang the opening lyrics of "Brian Wilson" midway through the set — arguably the signature song from the Page side of the catalog — audience members joined in, just as they always had, their voices at times overpowering Robertson's vocals. No question — it felt like a Barenaked Ladies show.
The Ladies — Robertson, drummer Tyler Stewart, multi-instrumentalist Kevin Hearn (who by the way, also plays with Lou Reed these days) and bassist Jim Creegan have become a tighter unit, something that was evident as they stripped things down for a brief acoustic set in the middle of the show. "Smile," from the newest album Grinning Streak fit the format well, not too far removed from its similarly simplistic album version, with Hearn reprising his role on banjo. He would shift to what Robertson described as a "sparkling blue accordion" for "Life In A Nutshell," a longtime fan favorite from the band's 1994 release Maybe You Should Drive. Moving ahead nearly ten years for "For You," from their 2003 album Everything To Everyone, the band harmonized in sublime fashion around a single microphone. It was an all too brief excursion and a full-on acoustic tour with this lineup in the future would be a real treat.
The 19-song set brought out a total of five tracks from Grinning Streak during the band's set. Robertson quipped that Rolling Stone had yet to name the new record as "the greatest album of all time." The featured songs from the new effort made a good case that while the album might not be on the level of the Rolling Stones' Exile On Main Street (or any other "greatest" album you might want to stick in), it's most definitely a solid entry in the band's discography. "Odds Are," the head bobbing current single was the opening track of the night, riddled with typical Robertson lyrical gems, referencing a bee sting appropriately in rhyme as "nothing but a B thing" and offering a lot of hope within the words — chances are good that you won't die in an airplane or a train — it's probably gonna happen at the mall. Good to know, right?
Luke Doucette, from the opening band (and fellow Canadians) Whitehorse, joined the group for a swampy run through another new album cut, "Keepin' It Real," adding slide guitar and trading riffs with Hearn in what became a pleasantly extended jammed out version of the song.
By the time the band moved towards wrapping up its set with a well placed double of "One Week" and "If I Had A Million Dollars" nearly 75 minutes in, there had been plenty of music, their trademark comedic improv and overall, no shortage of good times. The band intros at the end of the main set would bring additional pop culture callbacks, with slivers of Daft Punk's "Get Lucky" hanging out alongside Manfred Mann's "Blinded By The Light" — only at a BNL show can all of these otherwise strange bedfellows hang out together.
It was somehow appropriate that the whole night would come to a close with an admittedly ironic (it was a dry venue, after all) and energetic version of "Alcohol" during the encores, sung by Stewart, who took the opportunity to trade places with Robertson, yielding his spot behind the kit and stepping in on vocals to wrap up the evening. With a total set time which came in around the 90-minute mark, a few extra songs no doubt would have been welcomed by the near-capacity crowd, but as it was, it all felt pretty great. The setlist covered the catalog nicely while still leaving plenty to hope for the next time around.