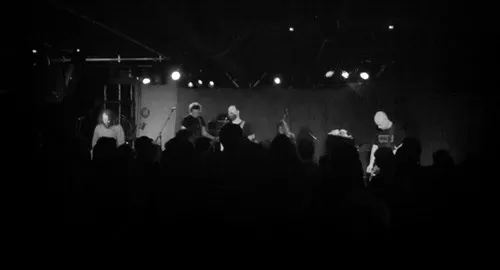 HEATHER VASELANEY
Built to Spill at Grog Shop
By the time the sun started ambling off the western edge of Northeast Ohio, the show was sold out. And goddammit if the fine folks over at the Grog Shop hadn't warned ye. Plenty were left high and dry - and cold! - last night as Boise, Idaho-based Built to Spill held down the fort at Cleveland Heights' grungy stalwart. For those inside, the evening came as advertised; singer/guitarist Doug Martsch isn't one to fuck around with misconceptions. Built to Spill lays down its classic blend of emotional lyrics and deep-diving jam-centric indie rock. 'Twas a good night.
There's already a roughness, a discord to Built to Spill's far-reaching studio output. But on the stage, the band really thrives. I mean, there's almost a shoegaze-level reverence for the feedback and the edge and the droney pain of the music. The three guitars work in jangly harmony to access the deeper points of each composition; guitarists Brett Netson and Jim Roth meander through effects-laden solos to accent Martsch's lead.
The jammy outro to "Strange" was a definite highlight, as was the whole of "Carry the Zero," which remains the band's finest song (despite one of Martsch's strings breaking mid-jam). But it'll always be the broad, exploratory, perfect-for-a-road-trip standards like "The Plan," "Big Dipper," and "In The Morning" that constitute the alluring skeleton of the Built to Spill canon. And those songs were tackled with aplomb, giving the audience precisely what they needed on a cold November night in Cleveland.
I can't be your apologist very long / I'm surprised that you'd want to carry that on / Count your blemishes, you can't, they're all gone / I can't see your response putting them back on

Like they're waiting for your guard to fall / So they can see it all and you're so / Occupied with what other persons are / Occupied with, and vice versa
Martsch's voice is one of the great things about the band. Last night, wear and tear seemed a bit more apparent as he navigated the cracks and wheezes of the high end. Honestly, though, the magnified imperfections of his singing brought underscored the emotion in the words with vivid, almost sepia-toned wonder.
There's also Martsch's trademark head-bobbing in media res, which was hypnotic as ever throughout the show. The realization has always been clear: Built to Spill must be experienced. You'd do well to cue up your copy of Keep it Like a Secret today, but, seriously, check them out on tour.
The trio of covers tacked on in the encore was a nice touch, too. But, still, those calling for the band to play "Car" were left bereft. Maybe next time?
Here's the near-complete setlist (drop a comment here if you can fill in the blanks):
Made-Up Dreams
The Plan
Revolution
Reasons
Center of the Universe
Big Dipper
???
Strange
Carry the Zero
Hindsight
Stop the Show
In the Morning
???
Conventional Wisdom
Encore:
(Don't Fear) The Reaper (Blue Öyster Cult cover)
Train in Vain (The Clash cover)
How Soon Is Now? (The Smiths cover)