Everybody knows that you don't book a budding soul chanteuse like Adele for the hip-but-tiny Beachland Ballroom when she can sell out the less-hip-but-more-cavernous House of Blues in mere minutes. It's economics, really.
So that's where the shockingly mature 20-year-old Brit ended up holding court on Saturday night, with a delicate but sassy performance that left fans in awe of a voice more on par with Etta James than that soused-to-oblivion Amy Winehouse (the other young Brit belter Adele's always compared to). It's no wonder she snagged Grammys for Best New Artist and Best Female Pop Performance not too long ago.
Adele's live show, which featured more soulful renderings of her songs than the studio yielded, cements those accolades. It didn't matter that you could barely understand her between-song banter — something about how she's a little embarrassed about looking frumpy and in need of an ironing board, and how she's aw-shucks happy to be here. The songs she played, almost all of them from her solid debut 19, more than made up for the indecipherable small talk.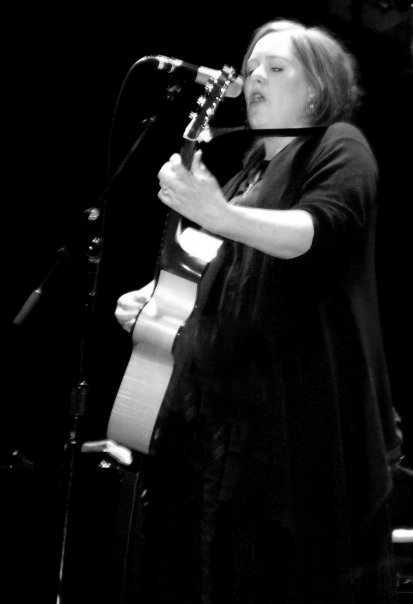 It didn't hurt that the Dublin-based band the Script opened the show. The group includes a great singer, Danny O'Donaghue, who bounces around like Coldplay's Chris Martin. But more often than not, he's singing soul-rock melodies that, though riff heavy and occasionally toe-tapping, lack any luster.
So when Adele came on, draped in a black sweater quilt and occasionally wrapped around a rhythm guitar, the audience was ready for something with the power to move. And she delivered that.
Though songs like the single "Chasing Pavements" and Bob Dylan's romantic "Make You Feel My Love" roused the most heartfelt responses, other moments touched more deeply. Piano ballad "Hometown Glory" penetrated the crowd to stillness and quiet. "Many Shades of Black" roared with rock gusto in spaces between the languid lounge-y pace. "Cold Shoulder" was all funky vocal and percussive acrobatics; "Right as Rain" was even funkier, as Adele swaggered around the mic and sang, "No room in my bed, as far as I'm concerned, so wipe that dirty smile off your face." Then there's "First Love" — a haunting trip to the carnival of personal pain.
My only complaint was Adele's lack of depth. I was hoping she'd fill the spaces with some covers to show her long-range plan. But really what it was: The show just didn't last long enough. And when you can't sit down the whole time, that's saying a lot. —Dan Harkins; photos by Jen Beehler